Titan Maximum Series One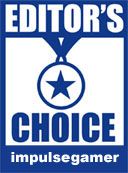 If Commander Palmer, one of the lead characters from Titan Maximum could sum up this thoroughly entertaining series from Adult Swim, his exact words would be "F**king Awesome!". This is easily the best series that I have seen in years and to try and get your head around the premise of Titan Maximum, imagine South Park meets Voltron and Battle of the Planets. It's definitely a mess of ideas from pop culture but the comedy works. Created by Tom Root, Matt Senriech with Seth Green as executive producer, you pretty much have a series made in entertainment heaven and from the get go, you get just that. Geoff Johns from DC Comics also lends his talents as a writer to this series which probably explains the high calibre of story from start to finish.

The all new improved Titan Maximum
The featured protagonists of Titan Maximum are five characters that include egotistically hunk Commander Palmer (Breckin Meyer), the "innocent" girl next door Lt. Jodi Yanarella (Rachel Leight Cook), the slutty, attractive and Paris Hilton type wannabe Lt. Sasha Caylo (Eden Espinoza) who would give any trucker a run for their money with her mouth, Space Seaman Will Palmer (Dan Milano), genius and younger brother of Palmer and finally Leon the Monkey (Dan Milano). Billy Dee Williams from Stars Wars fame is even in this series as Admiral Bitchface with lots of great one liners. Together with their catch phrase "Prepare to perform, TITAN MAXIMUM!", their spaceships make up the giant robot known as Titan Maximum who generally beat the absolutely crap out of their enemies or pee fuel on them. Evil doers beware!
Before I get into the crux of the series, everything in this series is perfect. The animation is amazing, the theme music with its Japanese style of pop is pleasing to the ears but more importantly, the banter between ALL characters, not just the lead but everyone is a delight to listen to. There are so many great one-liners in Titan Maximum that this series could be compared to the literally greats of yesterday such as Shakespeare and Orson Welles. I kid you not! If you're part of Generation X, this series will have you in stitches and for more evidence, lets have a look at the facts below.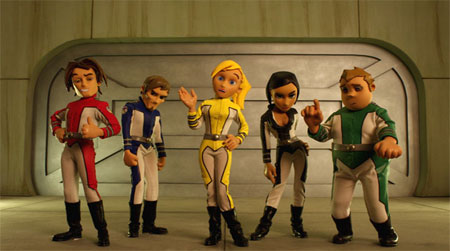 The original Titan Maximum
Family visits Pluto and boy says to parents "Mum, Dad, I'm making a snow Angel" <boy gets crushed by giant Alien> Dad "He's a real Angel now!" Commander Palmer "Time to punch the f*ck out of it!". A group of villain lackeys "Maybe I'll get some side boob with my elbow" in reference to Sasha arresting them and "Mum's going to get some rough news" just before they get killed. Of course, all of these moments have to experienced to be enjoyed such as Titan Maximum raping the statue of Liberty or a group of posh party goers thinking that Will is a boy from the Make a Wish Foundation due to his looks. It's all politically incorrect but to hell with political correctness, it's all about entertainment here and its pure indulgence at that.
The first episodes begins with a history of Titan Maximum and how their original member Spud Cunningham died in a horrific overdose of cocaine and prostitutes as he fell from a high rise building. As the team disbanded, several years later they were forced together again due to the nefarious, more particularly humourous villain called Lt. Gibbs (Seth Green) who in each episode is always trying to take down Titan Maximum. Why is Gibbs so anti Titan Maximum? That's because he was second in command and always in the shadow of Palmer... Gibbs also has a hilarious habit of giving everyone the bird.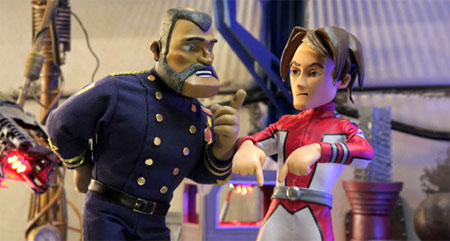 Palmer doesn't give a rats when it comes to his beauty or Admiral Bitchface
Then you have my favourite... Sasha, the bad girl of the team. Whether it's her getting drunk, flashing her breasts to the public in order to get her father the president to recommission Titan Maximum or her telling a man that his protruding noise hair is actually due to the fact that he was snorting pubic hair, it's a real gem to watch her character in action. Just be warned that she swears like a trooper but always made me have a fat smile on my face. All 9 episodes were equally good and the humour really hit home with its references to Voltron, anime and life in general. With so many remakes and stale TV series, Titan Maximum is definitely a breath of fresh air.
Audio & Video
The video quality is presented in 16:9 widescreen with great colours, deep black levels and no artifacting whatsoever. The special effects are also quite impressive as is the Dolby Digital 5.1 audio which only enhances this A+ presentation. To top it off, there are some fun special features from behind the scenes, amusing commentaries by the creators and an exclusive Comic Book. This is how series should be made and presented. Go out to your friendly DVD distributor and ensure that they stock Madman's Titan Maximum Series One! Just be warned, it's vulgar, it's foul, it's violent and if you're not a child of Generation X, you might be a little too late for this! Brilliant!
Special Features
Behind the scenes

Deleted animatics

Design showcase

Anatomy of a sequence

Crew mugshots

Pop-up trivia

Episode re-dub

Table read and commentaries

Plus an exclusive Mini Comic Book