National Geographic
Titanic's Nuclear Secrets
The use of "Titanic" in the title here is just a savvy marketing ploy. No, there were no nuclear warheads hidden deep in the Titanic's bulkhead. And no, it wasn't powered by a top secret nuclear reactor. Instead this National Geographic branded doco follows renowned undersea explorer and ex-Navy officer Robert Ballard in the period just before he discovered Titanic in the mid-eighties.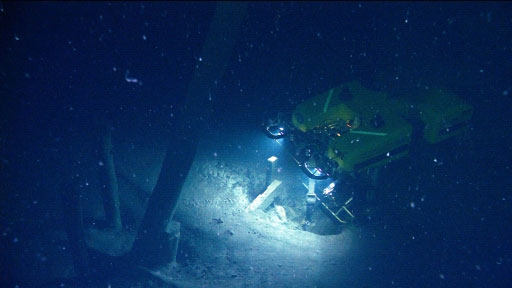 Searching for Titanic was Ballard's pet project. He convinced the Navy to fund his search under the condition that he must, in secret, search for the wrecks of lost nuclear attack submarines, the USS Scorpion and the USS Thresher. The Thresher was lost in a deep-diving test in 1963 after an incomplete refurbishment. The reasons behind the Scorpions' disappearance are more nebulous. Did it suffer a catastrophic hull failure? Did a torpedo run hot (arm while still inside the ship)? Or was it sunk by the Russians in retaliation for their lost K-129 submarine?
The DVD blurb claims it's something "ripped from the pages of a Cold War spy thriller," but while the more dramatic theories about the Scorpions' sinking are interesting (see All Hands Down: The True Story of the Soviet Attack on the USS Scorpion, by Kenneth Sewell and Jerome Preisler for one version), Ballad's finds are more prosaic.
All up this is a decent, if unremarkable documentary that features re-enactments, archival footage and interviews with Ballard and military personnel. More interesting and less slight, is the "bonus feature" entitled, Ghosts of the Black Sea. It is, by itself, a 50-minute documentary about Ballad's more recent expeditions in the Black Sea, where he and his team found remarkably well preserved examples of Byzantine era shipping vessels. It's simply amazing that these wooden ships have survived upto 1500 years in the pristine, life-devoid seabed; there's even the possibility that one day human remains maybe found in these unique, oxygen-devoid waters.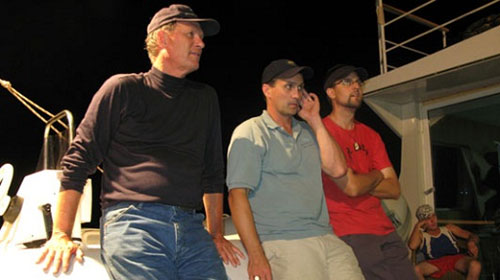 Ballad, left, on board a vessel in the Black Sea
Audio & Video
Both features are unremarkably presented in anamorphic widescreen and Dolby Digital 2.0. The picture is sharp and unblemished, the stereo sound is just fine.
Special Features
None apart from a few trailers for other National Geographic releases: "My Brilliant Brain", "Stress"
"Mega Structures," and "Britain's Greatest Machines," which is presented by Red Dwarf's Chris Barrie.