The Stepfather
I'm a sucker for horror remakes and we've seen everything from the Texas Chainsaw Massacre to the soon to be released Nightmare on Elm Street. It may be the age of remake but who cares, if they can pay homage to the original with a 21st century twist, than they've succeeded. The Stepfather is like these two aforementioned titles that uses that glossy music video template which boasts an attractive cast and an almost too perfect world. Throw in a sadistic killer and you have everything you need for a fun horror remake.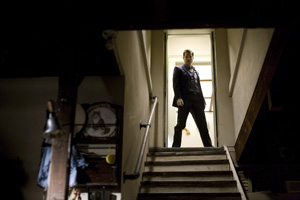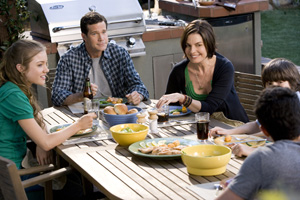 Although there are a few loose plotlines in the story and if you can suspend disbelief for 98 minutes, than you'll be glued to your screen and lost in this cheesy plot as a serial killer attempts to hold his tangle of lies together. This leads to victim after victim and even if you're not a detective, the story revolves around a stepfather who is the main protagonist of this film and is played masterfully by Nip/Tuck's Dylan Walsh.
The movie begins with "David", one of his many aliases he uses as leaves his current dead family behind in search of the perfect family. Settling into a new small town, he befriends a mother of three Susan and within six months, they are soon to be married. It is around this time that Susan's older son Michael (Penn Padgley) returns from Military School and from there, the clues of about "David's" notorious past starts to haunt him.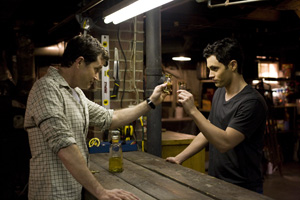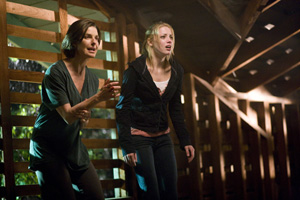 The star of the movie is definitely Dylan Walsh who plays a man with severe mental health problems and although he dishes out the charm, he also leaves enough clues behind to make his co-stars question his authenticity. The director of this movie Nelson McCormick, adds in a titillation factor to the story with the good looks of Gossip Girl's Penn Padgley and his onscreen girlfriend Kelly (Amber Heard) who spends the majority of film prancing around in her bikini. Not that males would mind!
As the death count climbs, we are treated to some nail biting moments that leads to the very stereotypical ending which involves a night time scene with bad weather as the crescendo comes crashing to an end. Even though this is as cliché as they come, the actors in the film managed to turn a mediocre and relatively forgetful old horror into an entertaining DVD experience.
I was also surprised by the additional content on this release that included commentary, featurettes and a gag reel. It's always great watching the gag reel and even though this is quite an intense movie, the actors know how to switch off after their scenes which makes it quite human, especially when you can laugh along with them. Lastly, as a horror film, it's actually not that gory and the insinuation in this movie is worse than the blood as your imagination is used as a tool.
On DVD, the video and audio nicely compliments the story and if you're looking for a fun and not so serious popcorn horror, than there are far worse choices than this. Recommended for a night in!