The Needless Part 1 - Episodes 1 to 12
Originally released as Manga, The Needless has been successfully transferred to the anime format in this action orientated series set on a post-apocalyptic Earth due to devastating effects of World War III. The series takes place 50 years after this heinous incident and is set in Japan which revolves around the designated wasteland from the war called the Black Spot.
Although the wastelands are supposedly barren with no life, special individuals have been inhabiting this area who cannot find their place in the cities. These people have superhuman abilities who can control the elements such as fire or wind and have been labelled as The Needless.
Even though the theme behind The Needless is quite dark, the series is however laced with classic Japanese anime stereotypes and clichés so fanboys and fangirls will enjoy not only the stories but the animation as well. At times, The Needless reminds me of TV series called Heroes as each episode focuses on a character with their unusual abilities but their tales are irrevocably twined.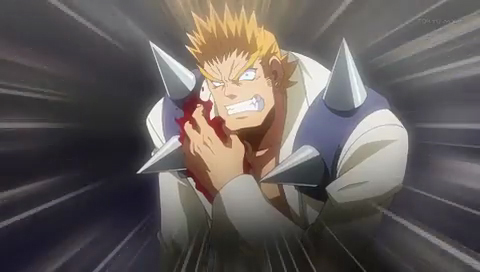 For example, the Simeon play an integral role in the series and is an organisation made up of the Needless who are not the nicest people in decimated Japan. This is where Cruz and his sister come into the play and the Simeon want them. Thankfully Cruz has some help with a super powered priest named Blade who has the ability to copy the powers of other Needless. These characters are not only interesting but they make the series quite enjoyable due to their unique attitudes and powers that goes hand in hand with the enjoyable universe that this anime is based on.
When I mentioned anime stereotypes, The Needless Part 1 is oozing with panty shots, breasts that want to explode from flimsy clothing and lots of up skirt action. Even with all the seriousness going around this TV series, a panty shot here or a ripped dress will make a mockery of certain scenes. Even so, it's quite amusing to watch and really doesn't hamper the story but more so, adds to the cliché nature of anime.

Video, Audio & Special Features

The video quality of The Needless is nothing special but does contain sharp images and vibrant colours but is a little washed out. The highlights are the characters themselves who have this real hero meets cyberpunk look to them. The girls on the other hand contain every anime MA15+ porn shot in order to showcase their bodies by their cutesy clothes that offers lots of fan service when the battles commence from up skirt shots to torn clothing. There's some great animation here! Audio supports Dolby Digital 2.0 with both an English and Japanese Track. Sorry, no real special features here!
If you like your epic battles with a touch of titillation than the Needless Part 1: Episodes 1 to 12 is for you! Check it out anime fans!