Star Wars: The Clone Wars Season 1 Volume 2
My biggest gripe with Star Wars the Clone Wars Season 1 Volume 2 is that the collection only contains 5 episodes from this amazingly cool series. For the uninitiated, this series takes place between Star Wars Episode II and Star Wars Episode III and goes into some detail of the battle between the Republic and the nefarious Count Dooku who leads the Separatist army, made up of millions of battle droids.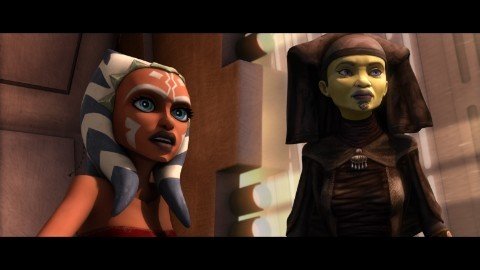 In volume 2, episode 6 "Downfall of a Droid" focuses on R2-D2 who becomes lost after a space battle and Anakin must use all his power in order to track down this droid before the Separatists find him first as R2 contains all the military secrets of the Republic.
Following this is a really cool episode entitled "Duel of the Droids" which has Anakin and Ahsoka entering enemy territory in order to rescue R2-D2 and destroy this base. Some great Star Wars moments, especially the relationship between Anakin and his young Padawan Ahsoka, humour and respect.
From here things go a little askew with Jar Jar Binks in episode 8 entitled "Bombad Jedi" but for the naysayers of Jar Jar, it's actually a fun episode that has Jar Jar masquerading as a powerful Jedi and once again by chance or luck, he manages to save the day until the heroes arrive. This episode also stars Padme and C-3PO who are held hostage by the Viceroy Nute Gunray.
Episode 9 "Cloak of Darkness" is an action episode which focuses on Ahsoka and Jedi Master Luminara escorting the viceroy Nute Gunray to trial, however the Sith apprentice and assassin Asajj Ventress believes she can free him. The last episode "Lair of Grievous" focuses on the tenuous relationship between Count Dooku, General Grievous and Senator Palpatine as Dooku sets up Grievous with some Jedi's in order to prove himself worthy of leading the Separatist army.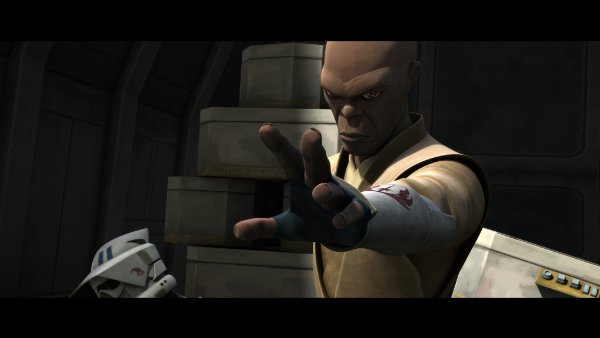 Images taken from later episodes
With some brilliant action, comedy and drama, this series is oozing with Star Wars goodness and best of all, the voice acting sounds almost identical to their movie counterparts. Matt Lanter is perfect as Anakin Skywalker as is Corey Burton as Count Dooku who sounds like Christopher Lee. Once again the video and audio quality is extremely impressive and even on DVD, it's quite exceptional and looks great on high-definition.
Another must have DVD from Warner Bros., and although it's lacking any special features, the story and beautiful computer generated animation more than makes up for this. Once again, it's Star Wars at its best!