South Park the Complete Fifteenth Season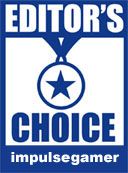 South Park first came out during the Golden Age of the Simpsons, however unlike the aforementioned cartoon series, South Park was far more adult orientated and more importantly, it never lost its edge. So here we are, 15 seasons later and 15 years later and Kyle, Eric, Stan and Kenny are once again up to all sorts of mischief in the quiet town of South Park.
This deliciously entertaining collection features all FOURTEEN episodes from the 15th Season of South Park that definitely completes my South Park fix. In terms of Australia, I honestly don't know what SBS and Channel 9 are doing with South Park as it's all over the shop. That's why I like collections like this, everything is there and you can rest assured that you won't miss an episode. Stupid commercial TV!
Season 15 starts with a bang and makes a mockery of Dr. Phil and the late great Steve Jobs. The new craze in South Park are the iPads and when Cartman is not allowed to have one, he goes onto Dr. Phil in order to vilify his mother. Meanwhile, Kyle is one of the lucky swarm who has his own iPad, however unbeknown to him, he signed his life away to Apple in order to create the world's first HumancentiPad.
If you have seen the freaky and quite disturbing horror movie, The Human Centipede, you basically know how this episode will end and just to be an absolute prick, I'll slightly soil... err... spoil the episode by including the very amusing image from the actual episode below. Jesus Christ!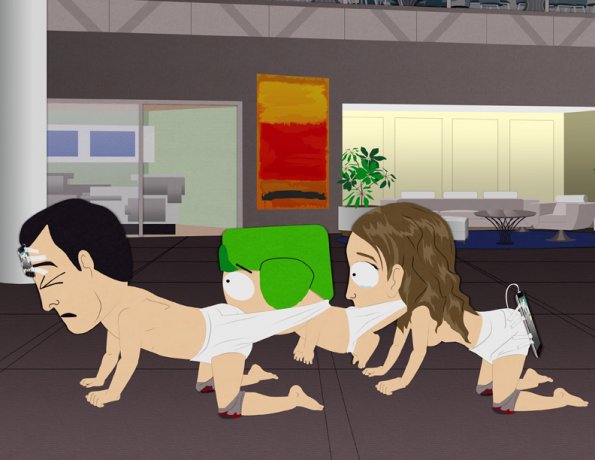 It doesn't end there... no, we're far from it. As the series progresses, South Park continues to make fun of just about everybody and anybody from the Germans in "Funnyboy" to the Chinese and the Japanese in "City Sushi" which once again sees some racial stereotypes as the owner of City Wok battles the owner of City Sushi.
Although my two favourite episodes in Season 15 are "Ass Burgers" and "Broadway Bro Down". In Ass Burgers, Stan is unfortunately diagnosed with Aspergers which creates this retro Matrix parody that will have you in hysterics. In Broadway Bro Down, Randy uncovers that all musicals are about blowjobs which leads to some amusing capers and a very amusing scene starring Sir Elton John... priceless! This is as good as cartoon comedy gets and if you're a fan of South Park or adult politically incorrect humour but done well... than this is for you.
Episode Listing
HumancentiPad
Funnybot
Royal Pudding
T.M.I.
Crack Baby Athletic Association
City Sushi
You're Getting Old (Part 1)
Ass Burgers (Part 2)
The Last of the Meheecans
Bass to Mouth
Broadway Bro Down
1%
A History Channel Thanksgiving
The Poor Kid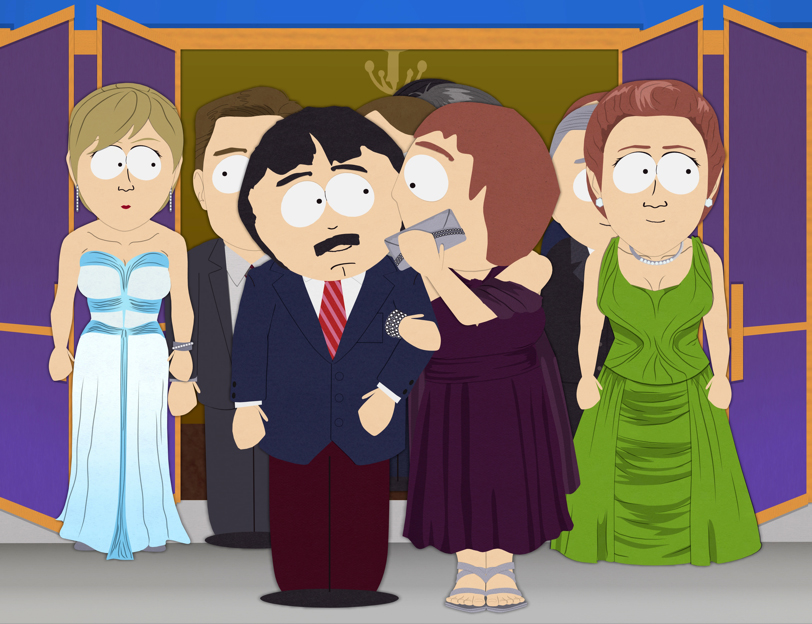 Video & Audio Quality
On DVD, the video quality of South Park is quite exceptional that boasts sharp images, colourful drawings and characters that almost jump out of your TV screen. It's a vibrant kaleidoscope that really lends itself well to the unique and politically incorrect humour of South Park. Although there are some jagged edges at times, overall, the video quality is first class, even with its simplistic animation.
Audio is equally as good thanks to its Dolby Digital 5.1 presentation that boasts some exceptional clarity, especially when it comes to audio, music and sound effects. Best of all, the levels are perfect.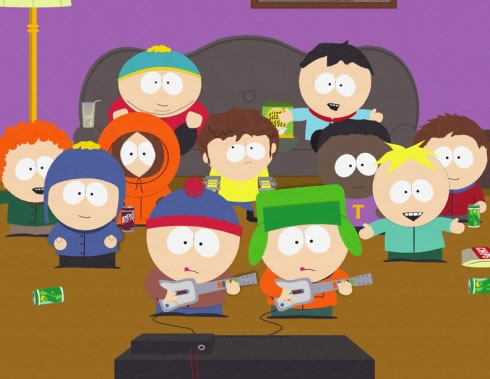 Special Features
There are some fun "bonus" features included in this release that include 6 Days to Air: The Making of South Park, 6 Days to Air: Behind the Scenes of "City Sushi", Deleted Scenes (15 to be exact) and some great mini-commentaries by the creators of South Park, Mr. Trey Parker and Mr. Matt Stone for all episodes. Thankfully all seriousness goes out the window in these special features and it's a real blast hearing Parker and Stone talk about their creations with love and wildly outrageous humour.
Final Thoughts?
This collection is strictly for fans and if you want to get your uncut South Park fix, than I could easily recommend this must have collection for you. Just like a good bottle of wine, South Park gets better with age and who would have thought this politically incorrect cartoon series, 15 years later is still making the rounds. Brilliant!