Southland the Complete Third Season Uncensored
The hit TV series Southland arrives on DVD with Southland the Complete Third Season Uncensored and returns viewers to the gritty streets of Los Angeles. For those not familiar with Southland, it follows the lives and families of LAPD officers but unlike more mainstream police dramas, Southland is quite realistic in the way the characters are portrayed and the visuals which creates this raw experience that really draws you into the storylines.
This DVD set features all 10 episodes from Season 3 which runs at a whopping 403 minutes of realistic police drama. However to compliment the gritty storylines of Southland, the actors are the real star of the series, especially Regina King who plays Detective Lydia Adams and Shawn Hatosy who plays this great detective with heart.
The first episode of Season 3 revolves around Lydia who is a little unsure of her new partner Detective Josie Ochoa (Jenny Gago) who together must put their differences aside in order to hunt a serial rapist. However as the series progresses, both Detective Adams and Ochoa are brought into some much more violent cases such as deadly drug dealers and murderers.
The most powerful story of Season 3 is episode 7 entitled Sideways which has Lydia befriending a dying man in a shootout that really crosses the boundaries of her role as a police officer. It's this realism that makes Southland such a treat to watch.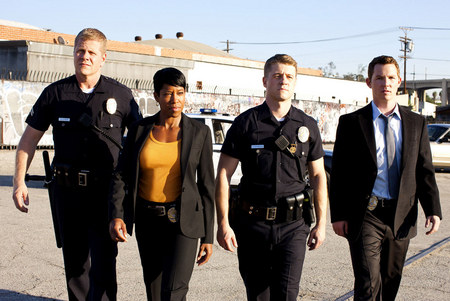 With that said, the stories of Southland are quite gruesome at times and this series is not for the faint hearted. The series ends with the episode called Graduation that sees Sammy (Shawn Hatosy) teaming up with a new partner that questions his role in the police force, especially with the violence around him and when his son is born, he asks to be transferred in order to support and train the new recruits. The final episode is a great bookend for the series.
At 403 minutes, there is so much content crammed into Southland the Complete Third Season that a second viewing is almost in contention. As you are drawn into the world of these police officers, even their home lives are effected by the world that they live in which makes the series very compelling to the viewer.
Video, Audio & Special Features
On DVD, the video quality is extremely sharp and almost jumps out of the screen. Audio supports Dolby Digital 5.1 and really lends itself well to the action. Last but not least there are a handful of additional scenes and bonuses to give the Southland fan another sneak peak into the working minds of Southland itself.
Final Thoughts?
What a brilliant series and even if you have missed season 1 and 2, most viewers should have no issues in picking up season 3 and running with it. Recommended to all lovers of high quality police dramas!