Sleeping Beauty
To all outward appearances, Lucy (Emily Browning) is a typical university student. She works odd jobs to pay her rent, has an estranged relationship with her parents, is sexually liberated, to put it mildly, and enjoys the odd 'jazz cigarette.'
As the film progresses it becomes increasingly difficult to discern Lucy's motivations, however. It is unclear what, if any, pleasure she derives from sex, a ritual she apparently treats with the starkest of indifference. At one point a coin is tossed to see which of two drunken businessmen will be enjoying her attentions that evening, an act of machismo to which she does not outwardly object. She moves through relationships with friends and housemates alike with the same detached nonchalance, as fleeting and ephemeral as a butterfly flitting from one flower to the next.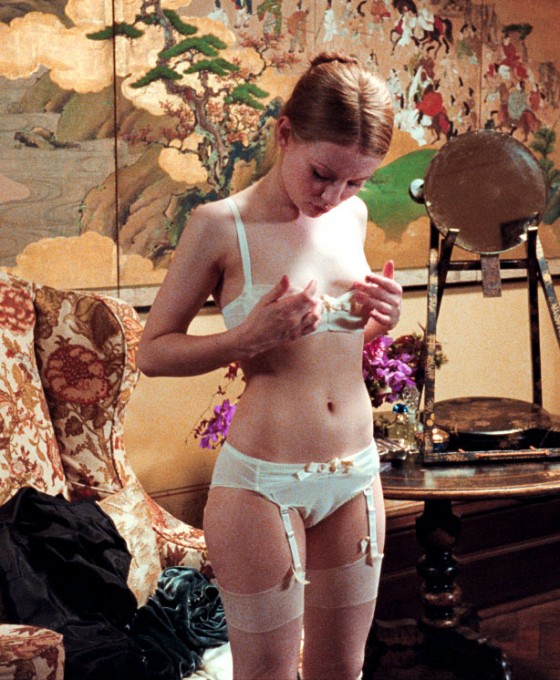 The story takes a darker turn when Lucy answers an ad in the student newspaper, and after an interview with the well-heeled Clara (Rachel Blake) ends up serving as a lingerie waitress at a formal dinner party. Though the evening's visuals are straight out of Eyes Wide Shut, shortly after she takes another job for the same shadowy agency, only this one involves being drugged unconscious while rich older men take liberties with her body. The only rule: no penetration. As a substitute we see a succession of coitus-weary white-haired gents lick and paw the sleeping Lucy, tossing her around like a rag doll, unleashing a torrent of verbal abuse or burning her with cigarettes. The imagery is haunting, unsettling, and stays with you long after the final reel has played through, and the manner in which the men project their various fantasies onto Lucy's supine form opens a rare window into the dark side of list not often captured on the screen.
The end result is visually stunning; icy and ethereal, much like Lucy herself, but also luxurious and vibrant, the storyline's complexity mirrored in Geoffrey Simpson's artful cinematography. First time Australian director Julia Leigh has concocted a deftly ambiguous exploration of female sexuality and patriarchal entitlement. It's a subversive outing that rewards multiple viewings, and proves another well-chosen lead role for the wise-beyond-her-years wunderkind Browning. Hugely affecting, and heartily recommended.
Special Features
None, just a theatrical trailer. And strangely enough, while there are chapters within the film itself there isn't a scene selection menu – you need to skip forward manually each time.