Shine a Light is visionary and director Martin Scorsese's documentary concert about the Rolling Stones at the Beacon Theatre in 2006. Filmed with 11 cameras, this IMAX film begins in glorious and noir Black & White as Martin Scorsese attempts to secure the songs that Mick Jagger and his band will perform at the concert in order to maximize this IMAX experience.
Joined by renowned cinematographers Robert Richard, Emmanuel Lubezki and Albert Mayles, the grainy Black and White footage suddenly jumps to IMAX as one of the world's legendary rock bands begins this outstanding concert with Jumpin' Jack Flash as their first piece. From this exact moment, the goose bumps suddenly appear on your body and you know that you are in for a true treat.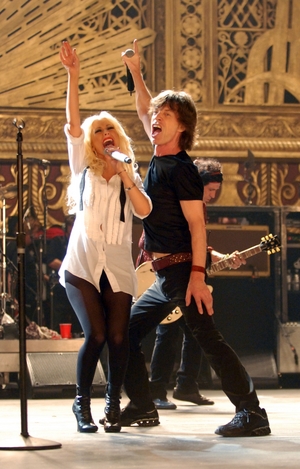 As the viewer is indoctrinated into the music of the Rolling Stones, Scorsese cleverly integrates documentaries of all the members of the Rolling Stones from a variety of different decades that allows the viewer to experience the truly human moments of this band. Ironically, "age" is a theme of some of these interviews that the band ignores.
To go beyond their previous concerts, Mick Jaggery performs duets with Buddy Guy (Blues Legend), Christina Aguiliera and Jack White (White Stripes) whose enthusiasm truly pays off for this concert. Even though the band members are pushing their 60's, Jagger still performs his legendary moves as if it was yesterday.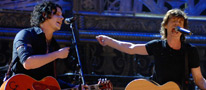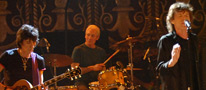 Even Ronnie Wood and Keith Richards still perform like their younger counterparts from the Golden Age of the Rolling Stones and it is amazing how fit these men are, however as with IMAX, the flaws of these singers are brought to light as wrinkles serve as battle scars, making them even more endearing to the viewer.
Ironically it is Charlie Watts who looks his age and is still as elusive as ever, just like he was in his prime. Martin Scorsese's Shine a Light proves that age is no boundary for legends and the Rolling Stones are just as good as they were from the beginning and hopefully with more years to come.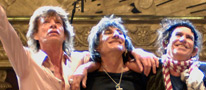 The video quality of the concert is outstanding, although the camera angles are quite fast and may give some users a touch of motion sickness. The music is extremely loud and my only grip with Shine a Light is that the instruments sometimes overpower the singing but at the end of the day, it's almost like you are part this historic two day concert.
Visit IMAX Melbourne (Click here)
Visit IMAX Sydney (Click here)
Official Wild Safari 3D website (Click here)