Shameless the Complete Second Season
As the British version of the Office made its way to US television, so did Shameless and UK's most dysfunctional family, the Gallaghers, who are now America's most dysfunctional family and strive to live crappily ever after. Imagine a comedy about a family living on the poverty line in the US but with a strange hybrid of dysfunctionality and family loyalty... this is Shameless!
Unlike the first season, Season 2 of Shameless is considerably darker and continues with the brilliant writing and great character development of the Gallagher family. So who exactly are the Gallaghers? The patriarch of the family is Frank (William H. Macy), a drunk and deadbeat dad who is not only despicable but strangely loveable at the same time.... I mean who puts up their two year old son as collateral for a debt?
Then we have Frank's oldest daughter Fiona (Emmy Rossum) who plays the matriarch archetype to her siblings and looks after the five other children while Frank drinks, steals and generally gets caught in his web of lies. In Season 2, the Gallaghers are also joined by Grammy (Louise Fletcher), Frank's recently released mother from prison and Monica Gallagher (Chloe Webb), Frank's estranged wife who is suffering from severe mental illness. Needless to say, both additions to the Gallagher family shakes the household to the core.
So where do we find the Gallagher family in Season 2? Turmoil, chaos and a tentative path of self-destruction for some. Fiona goes on the dating round in order to take her mind off Steve, Frank comes up with the brilliant idea to swindle money from a former colleague, Monica, the mother of Frank's kids attempts to play good mummy after all these years and Frank's room is hired out to a local hooker while Sheila attempts to steal a baby. Chaos!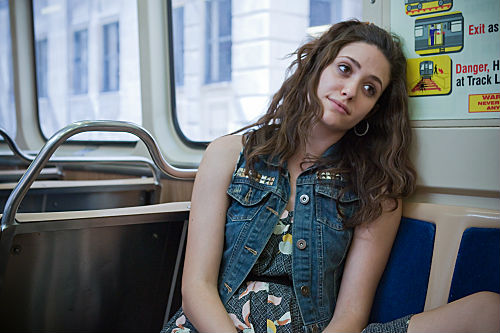 Compared to Season 1, Season 2 of Shameless is a hell of a lot more amusing and it's great that the writers have slightly strayed off the path of the UK version. It makes the characters more unique and interesting. The acting of Shameless is unparalleled with the standouts being William H. Macy who plays this deplorable almost Gollum like character and falls between failure and grace on a daily basis. Then we have Emmy Rossum who is brilliant as Fiona and tries to juggle the mess her parents have left her, all while trying to live a normal life while the Gallagher cruse effects every facet of her life, including love. Joan Cusack is once again brilliant as Frank's on again off again partner Sheila as is Louise Fletcher, the grandmother Gallagher who just like her son is a real mess.
Episode List
Summertime
Summer Loving
I'll Light a Candle for You Every Day
A Beautiful Mess
Father's Day
Can I Have a Mother
A Bottle of Jean Nate
Parenthood
Hurricane Monica
A Great Cause
Just Like The Pilgrims Intended
Fiona Interrupted
Audio & Video
Shameless is presented with an anamorphic 16:9 transfer that boasts sharp images, vibrant colours and no errors or artifacting whosoever. The soundtrack supports Dolby Digital 5.1 which produces crisp clear dialogue with perfect levels. Both the video and audio enhance the overall presentation of Shameless Season 2.
Bonus Features
There's some great extras for Shameless that include 3 featurettes which are The Complicated Life of Fiona Gallagher, The Art of Acting Drunk and the Writing of Shameless Version. Although all quite short, they give a great behind the scenes of the series. Others include the Shameless Christmas Carol Music Video, Unaired Scenes, a Sneak Peak at Season 3 and five shameless actor discussions about the show and their characters. Great stuff!
Final Thoughts?

If you have never watched Shameless before, you might be in for a rude awakening that merges almost every societal stereotype together and throws political correctness out the window. Where Australia's TV series Housos solely focuses on comedy and juvenile humour, Shameless is a much more darker comedy which successfully highlights the melting point of the socially disadvantaged and that family, even one so divided as the Gallaghers is the foundation for keeping them together. Not only is Shameless Season 2 quite tasteless at times, it's also one of the best TV series to be released on the DVD!