Secret Diary of a Call Girl – Seasons 1 & 2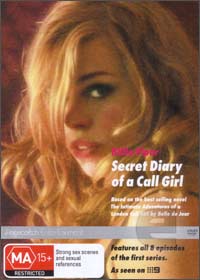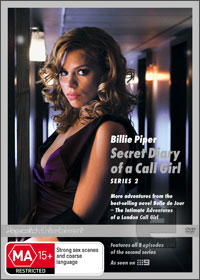 Based upon the popular blog-turned-bestseller by pseudonymous lady of the night Belle de Jour, Secret Diary of a Call Girl garnered rave reviews in its native UK, where it averaged 1.5 million viewers over the course of its sixteen episodes.
Having screened locally on Nine to generally favourable reviews, the series concerns the exploits of a high class London call girl (Billie Piper) living something of a double life. To her family and friends she's Hannah, a legal secretary who just happens to work some extremely odd hours, and to her clientele she's Belle, a self-assured seductress who will cater to just about any peccadillo, providing of course that the price is right.
Though the first season is enjoyable and offers an intriguing glimpse into the life of an escort, it serves mainly as a precursor to the superior second season, which is much more action-packed and markedly more compelling. Over the course of the first series we are mainly introduced to Piper's character, her clients, the rules of the game. Belle attends orgies, services businessmen in their hotel rooms and luxury apartments, deals with the boredom and loneliness inherent in living such a secretive and furtive double existence. None of her family knows what she does for a living and her only friend is Ben (Iddo Goldberg), a former boyfriend who still harbours something of a flame for his ex.
The second season, however, is where it all starts happening. Hannah becomes a freelancer and meets a naive and eager young protégé (Ashley Madekwe) who joins her in her raunchy exploits and provides a humorous and unpretentious contrast to her markedly more experienced mentor. Her relationship with Ben becomes more complex, and she even begins dating a handsome doctor, though is completely at a loss as to how to inform him of what she really does for a living.
The series doesn't shy from depicting the uglier side of prostitution either. Whereas the first season was almost light-hearted in its treatment of prostitution (Belle informs us in the first episode that she does not have an abusive past, and sells herself for the simple reason that she loves sex and money) things take a somewhat darker turn as the series progresses. Tricks occasionally turn nasty, Hannah's constant duplicity takes its toll, Ben finds out her true profession and any semblance of a normal romantic relationship becomes all but impossible.
The discs aren't exactly brimming with special features; in fact, there are none whatsoever. They haven't even bothered to include subtitles or scene selection. Luckily however the material and performances are strong enough to compensate for any deficiency in this regard, and each season is currently priced at between $15 and $20, which won't exactly break the bank.
Overall this is a well-executed and eye-opening look at the exploits of a freelance sex worker. Though it occasionally glosses over the seamier side of the industry, the likeable characters, intelligent casting and excellent writing combine to make this an extremely worthwhile view.