Robo Geisha
Unfortunately our original reviewer fell through with this movie <not impressed>, so here I am… Eastern Eye DVD in hand, robot geishas on the other and me in the middle, witnessing some of the worlds most over the top action scenes and crazy assed ideas that had me flabbergasted and dare I say it… a little confused at the best of times. And then there's Astroboy! Why? I'm guessing it's the scene where the Robo Geishas breasts turn into machine guns or their ability to shoot shurikens or throwing stars from their asses. This is the world of Robo Geisha, a Japanese gore film which parodies many films before it and even adds a strange sense of Japanese titillation to the mix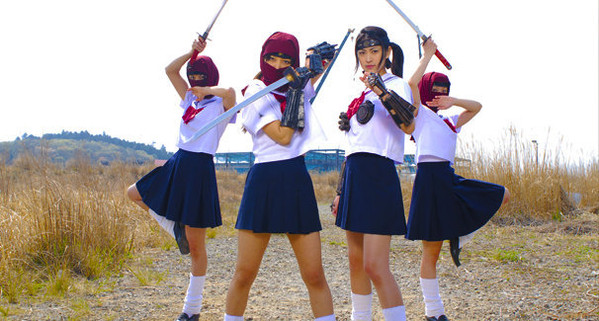 So now that I've established that Robo Geisha is not your average film, there is actually a story in all this wildness… amazingly enough. The two main protagonists of the film revolve around Yoshie and Kikuyakko, two sisters who have been seduced to join a society of assassins. But this is not your average society of assassins, it's more like a secret society of super villains who turn their students into robotic killing machines by upgrading their bodies in the most strange and obscene ways. Every part of their body is turned into a mechanical weapon of some form or another such as breasts that fire bullets or arms that become swords, it's definitely like a strange live action Anime film.
However for one of the sister, Yoshie, she discovers that this organisation is pure evil and decides to fight against them before it threatens the citizens of Japan anymore and the toppling of the Japanese government. The problem with the plot is that for a clichéd beginning, it is setup quite well, however as the minutes tick away, Robo Geisha begins to fall apart in a world of craziness with not much ever making too much sense, like giant Mecha-Robots. Don't get me wrong, there are a few highlights in the movie like some of the really bad fight scenes that had me in hysterics, not in an evil Montgomery Burns way but more of a laughing with them, then at them. Even the way the actresses fight lead you to believe there was not much classical training but then one of them throws some witty dialogue at the viewer and you're once again sucked back into this ridiculous movie. I'm still confused if I actually hated it or liked it!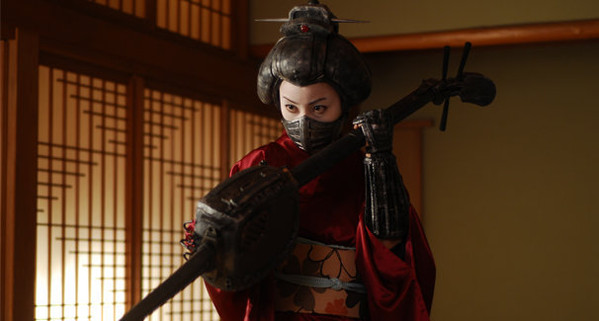 To compliment all this craziness, the video quality of Robo Geisha is rather impressive in Widescreen with sharp images and vibrant colours which is highlighted even more when the blood starts spraying and certain parts of the female body becomes weapons of mass destruction. Add in Dolby Digital 5.1 and when the action heats up, so do your surround sound speakers, especially with the Stay Puff marshmallow man ending. The special features are limited with a short spin-off film by the creator (Machine Girl was so much better) and the original Japanese trailer. It's not much but at least it's something!
At times I enjoyed Robo Geisha but it was a love hate relationship. For such a gruesome splatterfest and even though the movie is meant to be campy and clichéd, it was relatively slapped together and was not as entertaining as some of the other Japanese gore movies. However from all the press this movie has had, it's definitely worth a rent, especially if you like watching nubile young Japanese women kicking butt… just be warned that some scenes are a little creepy with their voyeuristic spin.