Rin - Daughters of Mnemosyne: The Complete Series
In keeping with its inscrutable title, the 2007 anime series Daughters of Mnemosyne features a highly complex narrative that is engagingly enacted over the course of its six 45-minute episodes.
Almost unparalleled in scope, the story spans the decades between 1991 and 2055, with plenty of historical flashbacks thrown in for good measure. The series revolves around Rin Asogi, a successful private detective and, in spite of her diminutive stature, no slouch when it comes to tussling with assorted gangsters and thugs. One evening she comes across a university student, Maeno, being assaulted by a trio of gang members. She dispenses justice in the form of several high kicks, rescues the lad and brings him back to her agency, much to the surprise of her vivacious and excitable business partner/lover Mimi. Upon questioning Maeno is revealed to be suffering partial amnesia, with no ideas as to why anyone would want him dead.
It's just the tip of the iceberg. We soon learn that both Rin and Mimi are immortal, having inadvertently swallowed 'Time Fruits,' anomalous spores from Yggdrasil, the Norse tree of life. Further complicating factors include longstanding government conspiracies, murderous and apparently indestructible assassins and the presence of 'angels,' or male immortals, who desire nothing more than to mate with and devour a couple of nubile young hotties like Rin and Mimi.
The puppet master charged with overseeing this entire spectacle is a sadistic, androgynous god named Apos, who feeds on the minds of immortals and who deliberately inflicts suffering because, in his words, 'painful memories taste so much sweeter.' The box cover neatly evokes this in a single chilling image: one of Apos' bound, gagged and bondage-clad victims is chained to a chair in his castle, pierced through with an array of sharp objects. Unable to free herself in order to regenerate like an ordinary immortal, she is thus forced to suffer the endless agonies of a thoroughly wretched eternity. The dastardly fellow also has a fiendish plan is store for Rin, intending to make her his bride before sacrificing her to the Yggdrasil, consequently destroying both humanity and the hereafter in the process.
This is certainly not one for the youngsters. There are numerous scenes or torture, nudity, sex, mutilation, violence and graphic sadism, sometimes simultaneously. The series is an extremely dark exploration of the erotic psyche set amidst a complex backdrop of ever-changing technology, but thankfully there are also plenty of humorous moments which leaven the weightier themes.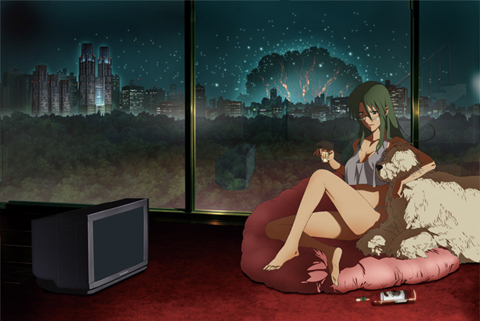 The story ultimately spans several generations of the Maeno clan and their efforts to help Rin rid the world of rogue government agents, endlessly destructive angels and eventually Apos himself, and it remains challenging and engrossing from the outset. This isn't a series that allows you to flick through the occasional episode here and there; in order to reap the full benefits Rin demands complete immersion, and richly rewards those willing to devote the requisite hours. As its plot progresses and the digital world becomes increasingly indistinguishable from reality, the series gradually begins to reveal its secrets, and the numerous story arcs and narrative convolutions are brought to a thoroughly satisfying climax (no pun intended).
The production values are second to none. Mnemosyne's painterly backgrounds and rich luminescence bring to mind the classic Akira, its character designs are suitably varied and the voice work of its experienced Japanese cast is extremely accomplished. Sound quality is excellent, though the Japanese dub is a 2.0, not 5.1 as advertised, and lacks the resonance of its English counterpart. There are also a couple of well-chosen bonus features, namely an enjoyable audio commentary on Episode 2 by the English voice and post-production team, and an equally spirited interview with the four principle members of the Japanese cast.
Not for the faint of heart, Rin: Daughters of Mnemosyne is nonetheless a thrilling and at times terrifying glimpse into the abyss, a realm of violence, lust, cruelty and torment. Thanks to a tightly crafted narrative and some strong performances, however, it ultimately proves a triumphant exploration of human will set against seemingly insurmountable odds, and proves itself an intelligent, confronting and fetish-laden animated classic.