Pure Pwnage
26-year-old video game enthusiast and dedicated narcissist Jeremy (Jarrett Cale) doesn't have time for trivialities such as getting a job, finding a girlfriend or moving out of his mother's basement. Under his gaming guise of 'teh pwnerer' (the owner) he's too busy destroying the 'n00bs', or novices, he so disdains, talking endlessly about how much he pwns and hanging out with his First Person Shooter-obsessed best buddy Doug (Joel Gardiner).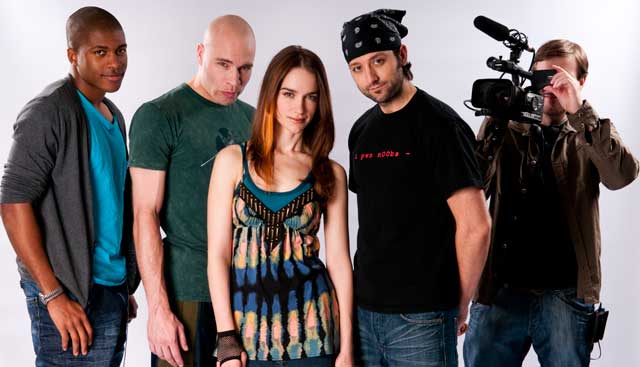 The pair's misadventures are filmed by Jeremy's younger brother Kyle (the show's co-creator Geoff Lapaire), an aspiring filmmaker who both disdains and is seemingly enchanted by his older sibling's misguided arrogance, lack of ambition and knowledge of the real world. Also along for the ride are October (Melanie Scrofano) the beautiful employee of the Mouse and Pad, the computer cafe where Jeremy and Doug do much of their gaming, and Tyrel (Eli Goree), a cool, socially aware gamer who attempts with limited success to introduce Jeremy to girls and teach him how to behave in the wider world outside his basement.
This thoroughly enjoyable tech-head mockumentary started life as a series of Internet-distributed webisodes, and the ethos of the original web series has been kept very much intact in the TV adaptation. Over the course of the season's eight 20-minutes episodes we see Jeremy get kicked out of his house, attempt unsuccessfully to get laid, begrudgingly learn the value of a hard day's work and prepare himself for 'Pwnageddon,' the biggest videogame tournament of the year, all the while bragging about his amazing skills and ever oblivious to any real opportunity for self-improvement.
Though the acting from leads Cale and Lapaire is a little patchy, they are ably backed by the uniformly excellent supporting trio of Scrofano, Goree and Gardiner, as well as a slew of well-cast minor characters and the odd celebrity cameo from the likes of Kenny vs Spenny's Kenny Hotz. At one point Jeremy, October, Doug and Tyrel even form a (Guitar Hero) band, briefly recruiting Anvil axeman Steve Kudrow and rocking the crowd at the Mouse and Pad with such ditties as 'Master of Sandman', 'Green Yellow Orange Orange Red Blue' and the classic 'Tilt Your Guitar,' which garners its own hilariously overwrought music video. As ever though, Jeremy's insistence on ruining every good thing in his life and, to a lesser extent, Dean's penchant for smashing things, threaten to derail the entire project before the band has a chance to get off the ground.
Though each episode essentially follows a similar premise there's still plenty of variety stylistically, and Pure Pwnage remains a cleverly scripted and one-of-a-kind celebration of slacker subculture. It hasn't been renewed for a second season and it's been a long time between webisodes, so this DVD release appears pretty much to be the culmination of the Pure Pwnage universe and its farewell – web-savvy gamers, fans of the online series and those who like their comedy irreverent shouldn't miss it.
Special Features
27-minutes of Production Featurettes, essentially a series of in-character behind the scenes mockumentaries within a mockumentary. It's very meta... and very funny. Also included is 35 minutes worth of 'Jeremy's Mail Sac' featurettes, in which Jeremy answers fan mail, mouths off about gaming and, unsurprisingly, pwns a few n00bs in the process.