Primeval the Complete Series Four
Primeval the Complete Series Four scratches its way on DVD that returns viewers to the mysterious organisation known as ARC that involves around time-travel and more importantly, dinosaurs. From the cliffhanging ending of series three that saw Danny, Connor and Abby mysteriously disappear plus the death of Johnson, the government funding body responsible for ARC has decided to take matters into their own hands due to the mismanagement of the organisation by Lester.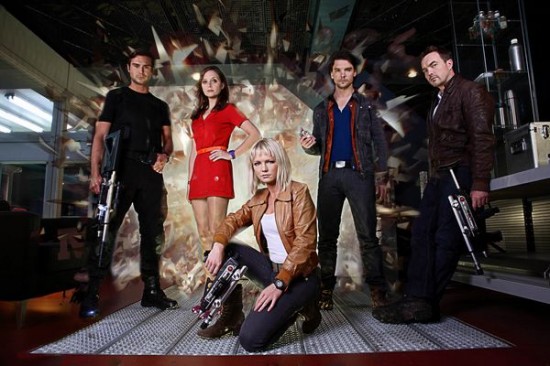 Bringing in scientist Philip Burton, the powers that be believe outside involvement into ARC is the way of the future and is an effort to prevent any more mishaps but this new path has rubbed a few of the members the wrong way. Under the new banner of ARC, their first mission is to search for the missing ARC operatives by creating a new team to investigate there whereabouts and more importantly, if they are alive. This new team is lead by Matt, a former soldier who seems to have a very shaded past.

Thankfully early on the series, we learn of the fate of Danny, Connor and Abby as they have spent a year in the Cretaceous period with Connor and Abby forming a romance, however Danny is still missing. The new series of Primeval has really thrown a spanner into the works and its writer have turned the entire organisation ARC, upside down which has breathed some new life into the series, especially with the introduction of Philip Burton as the wealthy scientist. Primeval the Complete Series Four is a very well made British series that features some exceptional writing and some great characterisation. There is drama, action and even romance that makes this one of the better science fiction series, although there are a few cringe worthy moments.

The BBC continue to the be at the forefront of high quality video and audio with Primeval cementing this fact. The image quality is outstanding with bright colours, deep blacks and some rather impressive special effects. Audio is on par with the video with crystal clear dialogue and some great sound effects thrown into the mix. With a recommended retail price of $39.95, Primeval the Complete Series Four runs for a whopping 394 minutes and if you enjoyed the series on TV and are a purist than this is a must have collection or for those who may have missed out the first time on TV.
Definitely a series for the fan boys and girls!