Pirates II: Stagnetti's Revenge is one of the adult industry's most expensive film which is written and directed by the internationally awarded and highly acclaimed Joone. Starring a bevy of Digital Playground's exclusive starlets such as Jesse Jane and Shay Jordon plus new comer Riley Steele, Pirates II: Stagnetti's Revenge is truly an ambitious film. You know you are in for a treat from the presentation of the DVD which is quite spectacular from the artwork on the box to the four discs that are included in the release. Blu-ray owners will be pleased that to know that a Blu-ray edition is also available.
Starlets of Pirates II: Stagnetti's Revenge
(Click to enlarge)

Stoya
Gabriella Fox
Sasha Grey
Bella Donna
Jenna Haze
Rhylee Richards
Jesse Jane
Katsuni
The story of Pirates II is your classic swash buckling pirates movie which revolves around an ancient artifact that has been stolen by a group of pirates led by the sea witch called Xifen who is played delightfully by Katsuni. Xifen wishes to use this artifact to raise Victor Stagnetti from the dead.
Fortunately for the world of man, a Group of freelancers, led by Captain Reynolds (Evan Stone) have been commissioned to retrieve the artifact and to execute all those involved, however fate dictates otherwise. Jesse Jane is the lead female role and plays Jules, a swash buckling adventurer who not only knows how to use a sword but also her body which is where the sex comes into play.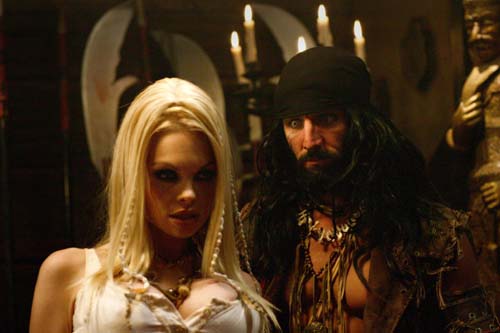 So what does Pirates 2: Stagnetti's Revenge include besides a wide gamut of sex scenes? The answer, is actually quite an engaging story which features action, adventure, romance, drama and even comedy that is matched with state of the art special effects which gives this movie an almost Hollywood blockbuster atmosphere.
For an adult film, the chemistry behind all actors is quite realistic and nothing seems forced or too contrived. With one on one scenes, girl on girl and orgy scenes, this could almost be considered the perfect adult DVD. A passionate movie from start to finish. Jesse Jane is great as Jules as her humour and natural charisma shines through and she really puts 100% into everything. Even Stone is quite funny as Captain Reynolds and for an adult film, director Joone has left nothing to chance, although there are some quite amusing bloopers.
Once you have finished with the first disc which also contains a commentary by writer and director Joone and some of the stars which included Evan Stone, Jesse Jane, Riley Steele and Tommy Gunn, they give the viewer a true insight into how the film came together. In relation to the actors, some of them are great, however some are so "porno" in their acting ability, however it's all part of charm.
Disc 2 basically showcases the extended sex scenes from the movie which shows more detail and passion than the feature film and is definitely a great bonuses for the buyer. Disc 3 was quite interesting and featured a behind the scenes featurette of Pirates 2: Stagnetti's Revenge plus a great showcase revolving around Riley Steele, Digital Playground's latest exclusive star whose goes above and beyond in her first role.
The action was also taken quite serious in this movie that is showcased on this disc which truly lends to the realism of the film. Lastly, Disc 4 contains a variety of small featurettes from hilarious bloopers which gives the adult industry a truly grounded and human presence. Other noticeable highlights include trailers from other Digital Playground productions and a casting call featurette. Needless, the special features of this collection are quite deep and impressive on all counts.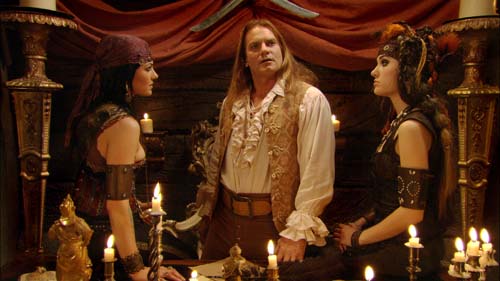 The video quality of the main presentation is amazing as it was filmed in high definition (1080p) that has resulted in extraordinary picture quality. The images are exceptionally sharp and clear that are complimented with vibrant and realistic colours.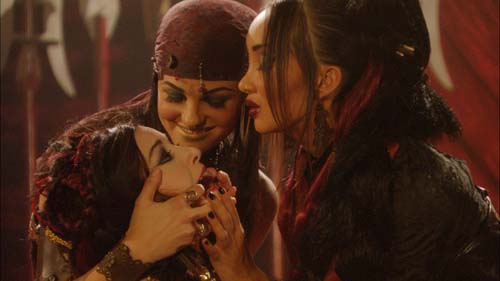 The high quality video also compliments the outstanding special effects from the undead skeletons to realistic pirate vessels. Digital Playground went to some amazing effort in capturing the creation of this movie as almost every facet of it was filmed in high definition which compliments the special features perfectly. The sound quality of the film also matches the high definition quality of the video.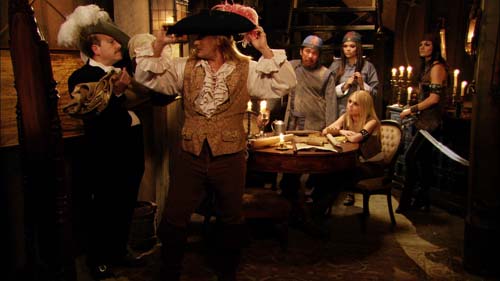 In conclusion, Pirates: Stagnetti's Revenge is a true adult masterpiece that is on par with Penthouse's Caligula, however this film is more tongue in cheek. For lovers of adult films, this is definitely one for the collection or for those curious about one of the world's most expensive adult films ever to be filmed.
Bring on Pirates III.
To learn more, visit www.piratesxxx.com
DVD Features:
Adult DVD
NTSC All Region
Four Disc Set
16x9 Widescreen Format
Digital 5.1 Surround Sound
Star Commentary
Extended Sex Scenes
Bonus Sex Scene
Behind The Scenes
Making of Pirates #2
Behind The Scenes Slide Show
Special Featurettes
Riley Steele's First Day On The Set
Interviews
Confessionals
Bloopers
Making of the FX
Casting Calls
Deleted Scenes
The AVN 2006 Awards Recap of Pirates
the 2005 Pirates Premiere Party
Digital Playground Trailers
Playable Worlwide
Chapter Index
Images used with permission
Copyright 2008 Digital Playground