Miami Ink: The Complete Season 3
In a previous review I may have intimated that Season 3, comprised of Collections 7, 8 and 9, was somehow slightly inferior to its predecessors. This was due to two factors:
1) an unfortunate propensity to shooting my mouth off without having all the facts
2) not having watched the entire season, just a handful of episodes on Foxtel
Having rectified the latter if not the former of these deficiencies, I can happily report that Season 3 is in no way lacking, and might well be the most interesting and consistent series of all.
Season 2 of Miami Ink was highly worthwhile, containing everything that was best and worst about the show. The immensely talented Kat Von D was always going to prove well nigh impossible to replace, and Season 3 opens with the team struggling to find a guest artist who can step up and attempt fill the void. This allows a slew of talented friends and artists to strut their stuff on the show, and watching guest artists at work on a variety of different styles is one of the high points of Collection 7.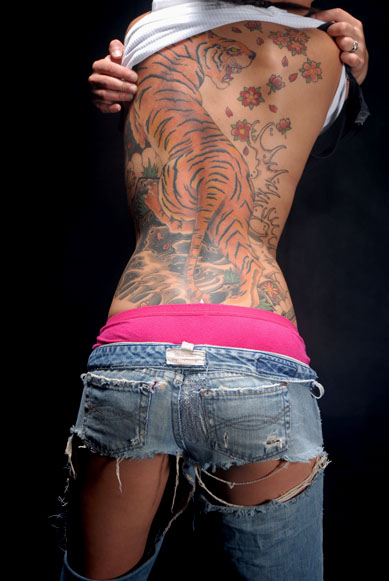 As the series progresses it maintains momentum by having the lads step out of the shop more and more often, undertaking a variety of extracurricular activities like going drag racing, judging a beauty contest, throwing the first ball at a Miami Dolphins baseball game, designing skateboards and visiting a post-cyclone New Orleans. In this way the show becomes a little more multifaceted though as ever the focus is on the tattoos, which are as diverse as ever - just like the stories behind them. Several memorial tattoos are also particularly poignant, such as the Celtic cross gotten by a 19-year-old student to immortalise his young girlfriend Emily Hilscher, the first student killed in the Virginia Tech massacre.
By the end of Season 2's 30-episode run the Miami Ink formula was starting to get a little repetitive: someone wants a memorial tattoo for a dead relative, someone wants a koi fish, Ami acts disgruntled for no apparent reason, Yoji and Darren hang around on the periphery, Chris makes a veiled reference to his hard drinking ways, a mild drama of some sort ensues, someone gets a dragon, the end.
The 9-disc, typically monumental Season 3 remedies this by being consciously injecting much more levity and versatility into proceedings, and focusing more on the foursome's camaraderie and artistic skills than on petty squabbles or the occasional faintly uninspiring celebrity design. It all makes for highly enjoyable viewing – perhaps the departure of Kat Von D wasn't such a bad thing for Miami Ink after all.