Miami Ink: The Complete Season 1
Miami Ink, as the name suggests, revolves around a Florida-based tattoo parlour and the colourful personalities that reside therein.
There's the parlour's owner, Ami James, a tough former member of the Israeli army who doesn't tolerate any insubordination from his ragtag crew. Co-owner Chris Nuñez, a tattooist for 13 years, is cut from far a gentler cloth and provides an effective counterweight against his melodramatic business partner, which may explain the secret of their success. Rounding out the team of tattooists are Chris Garver, an extremely talented and widely renowned artist who taught Ami his craft, and Darren 'Mr Nice Guy' Brass, who sometimes fades into the background against the sheer weight of the charismatic personalities contained within the small shop, but still manages to rise to the fore with some excellent and highly original work of his own. Also along for the ride is universally-beloved Japanese apprentice Yoji Harada, who has become something of a celebrity in his native land due to his association with the show.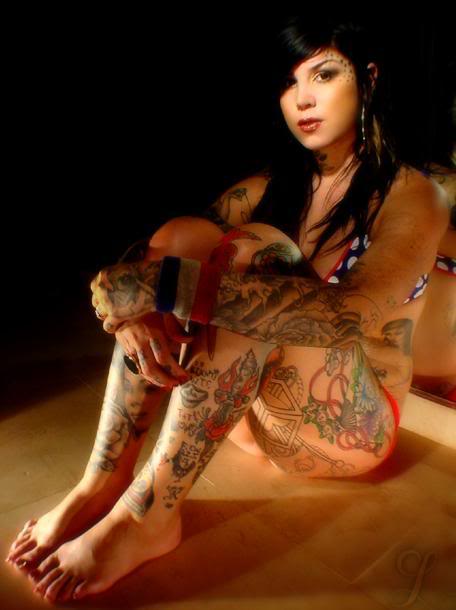 Season One begins, as you might expect, with the rather rushed opening of the new shop and a celebrity tattoo to kick things off – surfing legend Sunny Garcia drops by to get the Hawaiian islands inked on his torso. Chris helps a young woman deal with the pain of her brother's suicide by inking some song lyrics of particular significance, and reveals of his own struggles with his father's suicide several years before. Long-suffering Yoji is sent to select the sushi for the opening night party (despite the fact he doesn't actually eat it), and his pregnant girlfriend drops some fairly unsubtle hints that it might be time for the pair to wed. Meanwhile the shop is in disarray, the signwriter has made a complete mess of the logo adorning the windows and the party is scheduled to begin in just a couple of hours.
This, in a nutshell, is the secret of Miami Ink's success; it's an excellent blend of drama, emotionality, celebrity and substance. As the series progresses we come to know the central characters extremely well, their back stories and desires are gradually revealed and a real sense of camaraderie develops within this unique world. The tattoos are first rate, the clientele interesting and varied – it might be a long-term client looking to complete his 'body suit,' a mother and daughter walk in looking to get their first tattoos together, or a famous DJ, actor or musician wanting to be inked by the best in the business. Some of the situation's feel a little contrived at times (always a danger with 'reality' TV) and the 'Ami acts like a jerk to Yoji in order to teach him a valuable lesson' subplot is a little overplayed, but all in all Miami Ink is one of the most consistently enjoyable reality series of all time, and it's great to go back to where it all started.
The Complete Season One will be available from 4 May 2011, and comprises 25 hour-long episodes over seven discs. Also included are two first-rate specials; one an episode devoted entirely to Nuñez, another to Darren Brass. As ever there's plenty of depth in the Nuñez designs, and it's also great to see the least vocal member of the troupe given his chance to shine.
The running time is monumental, the tattoos top notch, the drama and celebrity cameos come thick and fast and the bonus disc is a nice touch too; this is a great presentation for this memorable and oft-imitated show.