Men Behaving Badly Six Pack
In an original run that lasted from 1992 to 1998, British sitcom Men Behaving Badly became a firm fan favourite that, like one of the many bottles of Chianti enjoyed by its central characters, only got better with age.
Season 1 didn't have the casting quite right, and the writing on Season 2 wasn't quite as sharp as that of later seasons – in addition some pretty terrible hair and costuming decisions still featured prominently. By Season 3 all the essential ingredients were in place however, and everything from Season 4 onwards was pure magic.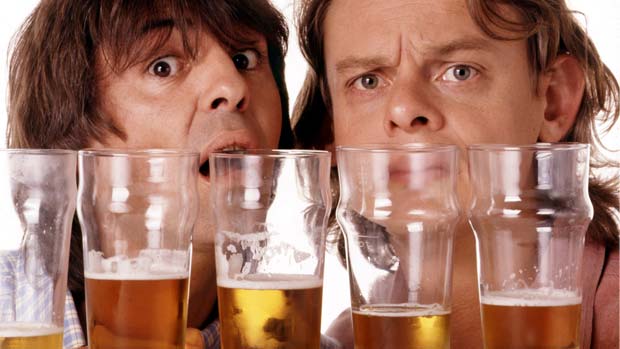 The series revolves around two flatmates, lovable and ever-so-slightly responsible home security salesman Gary Strang (Martin Clunes, Acid House, Doc Martin) and lovable but entirely irresponsible Tony (Neil Morrissey). Much to the chagrin of Gary's long-suffering girlfriend Dorothy (Caroline Quentin) and Tony's perennial love interest Deborah (Leslie Ash) the boys do enjoy a drink, and their bumbling attempts at actually acting like adults give the series much of its comedic impetus. Tony's womanising ways, Gary's stubborn refusal to grow up, the pair's drunken tomfoolery and Deborah's long-standing rebuttal of Tony's charms were all central themes, though thanks to some top-notch dialogue and truly hilarious scenarios the series never degenerated into boorish loutishness – it was often blokey but it always had heart, and plenty of substance and laugh-out-loud moments too.
As the name suggests Roadshow's new Six Pack edition comprises the first six seasons into one regular-sized DVD slipcase, something of a bonus considering the last bulky box set housed each series separately and retailed for a good $30 more. The collection isn't quite comprehensive – the Christmas special and the all-important feature-length seventh season, known as 'The Last Shout', are nowhere to be seen – but it's close enough and with its 38 episodes running a pinch over 17 hours you certainly won't be left feeling short changed.
Audio & Video
Men Behaving Badly always came across a little soft, and that's the case once more with this latest DVD outing. The transfer is still fairly decent regardless, with no real grain or artefacts to speak of, and the DD 2.0 audio is clear and consistent throughout.
Special Features
Each disc features animated menus with unique sound effects. There are also four Interactive Quizzes with Outtake rewards upon completion, and though I'm not sure this constitutes an extra the fact that there is 'Scene Selection with Each Episode' is also being touted as a Special Feature.
Summary
Men Behaving Badly garnered its fair share of awards: it was named the Comedy Awards best ITV comedy, won the First National Award for Best Television Comedy and was, albeit controversially, voted the best sitcom in the BBC's history at the corporation's 60th anniversary celebrations in 1996. A deft, daft and eminently enjoyable subversion of UK 'lad culture', the series isn't perhaps as widely known among the current generation as it should be, but was, and is, always good for plenty of laughs.