March of the Dinosaurs
This documentary is a strange beast indeed and although the story and information is quite accessible to the viewer, I was a little disappointed with the special effects. Given that this special was created by the people behind Walking with Dinosaurs, the special effects just felt "off" at times but at other times, they looked spectacular. They almost look cartoonish and the problem was not the dinosaurs themselves but rather the backgrounds which looked too computer generated. I guess I'm probably being too spoilt by all the Hollywood films of late but even so, it seemed a little lacklustre.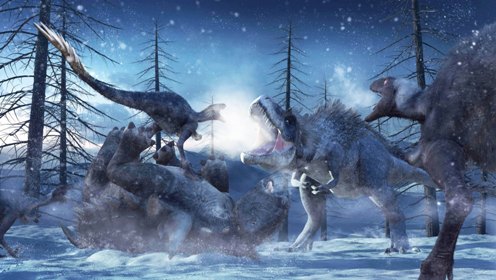 Enough griping! When it came to content, March of the Dinosaurs definitely has it. The story follows two young dinosaurs, Scar and Patch as the series follows their journey through their struggle for survival in this world of ancient beasts. Scar, a Edmontosauraus must make the arduous thousand mile walk through wastelands and all sorts of dangers with lots of "fun facts" given to the viewer to get to his feeding grounds with his herd. I loved seeing Scar swim for the first time and became quite emotional when he was being chased by other dinosaurs who led the herd into an ambush. It was quite thrilling to watch.
The other dinosaur Patch, a young Troodon who unlike Scar is a meat eater and needs to learn how to survive the dangerous arctic winters. The contrast between the two dinosaurs is a treat to watch and their personalities are so different, almost realistic which really helps draw you in. Scar is definitely the more curious of the two, until he encounters his first taste of real danger. The highlight of the Troodon story is seeing Patch hunt for the first time and learning to become an efficient hunter.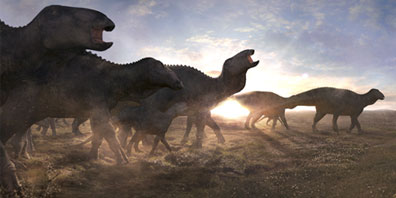 Video, Audio & Special Features

Narrated by Stephen Fry, he helps bring the journey of Scar and Patch to life and adds a uniqueness to this documentary, thanks to his almost visual commentary. The video quality looks brilliant on DVD but as mentioned, the high quality of this presentation also highlights some of the flaws of the CGI that is unfortunately a mixed bag. The musical score has this Hollywood theme to it that adds to the story and the sound effects are quite well made.
This documentary even contains some interesting special features that include;
In the end, March of the Dinosaurs is an informative and sometimes emotional series that used scientific evidence to help retell the tale of these two dinosaurs. It should also be noted that March of the Dinosaurs is sometimes quite violent due to the meat eaters that litter this series but can definitely be watch by children, provided there is some adult intervention.
Recommended!