Mao's Last Dancer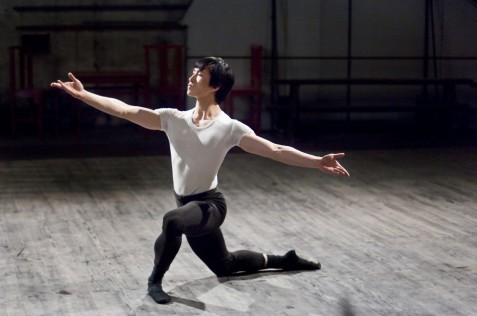 The elegant lines of Chi Cao (as Li Cuxin) in Mao's Last Dancer
It's a shame that Mao's Last Dancer has been barely seen outside Australia. Only garnering a release in Germany (oddly) and appearing at a few film festivals, this DVD may be the first chance many have had to see Bruce Beresfordís latest, a broad biopic of ballet-dancer extrodinarre Li Cuxin.

Aside from his dancing exploits, Cuxin became well known because of his 21 hour long detention at the Houston Chinese Consulate in 1981. An exchange student reaching the end of his term, Li had fallen for his adopted capitalist home (not to mention, his pretty girlfriend) and wished to stay. The communist Chinese authorities did not approve.

His story, from a difficult childhood in 1960s China, to his training at the gruelling Beijing Dance Academy, to his subsequent stay in the United States, is related in his autobiography which became the basis for Jan Sardiís (Shine) screenplay.

Dramatic and uplifting, it is an enjoyable but conventional rags-to-riches tale. Beresford is not afraid to tug at the heartstrings or enunciate the blatant themes of race, culture and ambition. But itís also weak, without the conviction of thoroughly depicting the hardships enforced on him as a child.

That would perhaps have been a better film. As it is the melodrama of Maoís Last Dancer is painted in broad strokes with touching performances from Joan Chen as Liís mother Niang, and company director Ben Stevenson (Bruce Greenwood, Star Trek), a soft fatherly figure and champion of his biggest star. Everyone else, including Chi Cao as Li are just serviceable, though his dual-language role and superb dancing ability impresses.

Cinematography Peter James gives the Chinese scenes a grimy, grainy quality which contrasts well to the colourful dance sequences. The filmís biggest weakness is the superficial love story between our hero and attractive dancer Elizabeth Mackey (Amanda Schull), which seems to exist solely to allow Li to play marriage card when the communist officials come knocking.
Special Features: