Livid
The sophomore feature-length outing from French directorial team Alexandre Bustillo and Julien Maury and the follow-up to their highly regarded debut Inside, Livid sees the pair once more taking a highly inventive approach to their horror, this time by breathing new life into the wheezy old lungs of the vampire genre.
A cornucopia of memorably macabre imagery (Guillermo del Toro's name is bandied about in a lot of reviews, but Floria Sigismondi and Matthew Barney might be the more apt reference points) this tightly edited and artfully staged film is bolstered by several strong performances and many moments of real nail-biting dread.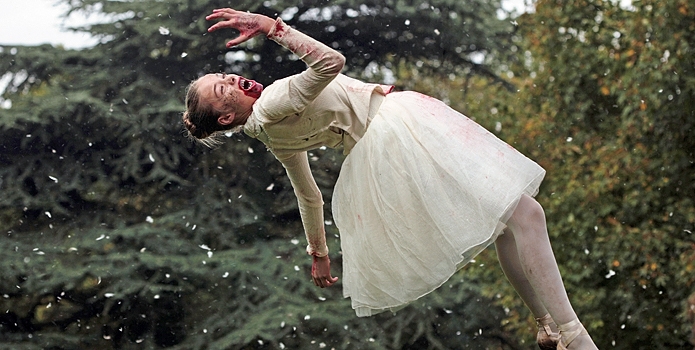 Set in the French countryside, Livid revolves around Lucie, a young woman starting her first day as an at-home nurse. Her trainer and chaperone is the cynical Mrs Wilson (Catherine Jacob), a middle-aged woman devoid of much in the way of feeling for her near-catatonic wards.
Eventually the pair make their way to the decrepit mansion inhabited by the comatose and impossibly ancient Madame Jessel, who was once a famous ballet instructor but these days prefers to just lounge around in bed looking waxen and creepy. After attending briefly to the unconscious crone (who despite being insensible is in the process of a mysterious blood transfusion) Wilson mentions that she believes the house to hold a hidden treasure, apart from the mouldering books and stuffed animals that litter the residence like cast-offs from a Marilyn Manson film clip. Lucie's ears prick up and she later mentions this fact to her skeevy boyfriend and his brother. Later that night the trio break into the house with the intention of stealing the loot, but discover the house's 'treasure' is of an unexpected and decidedly bloodthirsty nature...
A huge amount of thought has clearly gone into this film. The cinematography and special effects are sublimely atmospheric throughout and at 88 minutes the pacing remains tight and punchy. The performances are also uniformly accomplished which adds a further air of believability, if that's the right word, to this most outré of fantasies: in particular Chloe Coulloud as Lucie and the always-excellent Jacob play superbly off one another in their few scenes, and feted ballet dancer and choreographer Marie-Claude Pietragalla does a superb job as the literal stage mother from hell.
All in all the execution is eminently visceral in every conceivable sense, and though it leaves a number of questions unanswered Livid is a chilling and highly effective entrant into the comparatively modest canon of vampire worthies.
Bonus Features
None, just a smattering of trailers, and there isn't even a reversible slick! Sacre bleu...