Lemmy
Motörhead frontman Lemmy Kilmister has been plying his craft for the better part of five decades now, and despite having recently passed retirement age shows absolutely no signs of slowing down. Formerly a member of the psychedelic rock group Hawkwind, he formed Motörhead in 1975 and injected elements of punk into a rock and roll framework, singlehandedly inventing speed metal in the process.
Filmmakers Greg Olliver and Wes Orshoski spent three years filming for the project, capturing the gravelly voiced rocker's daily routine in all its mundane glory as well as the craziness of life on the road, the process of recording and Kilmister's innumerable and sparsely poetic musings on life and fame. The film features plenty of interviews with friends, peers and admirers including Dave Grohl, Nikki Sixx, Kat Von D, Ozzy Osbourne, Metallica, Henry Rollins and countless others. It's entirely laudatory but never grating, and though it doesn't exactly scratch too far beneath the surface it does achieve exactly what it set out to: provide a watchable and eminently entertaining depiction of one of rock music's most perennial, recognisable and inspirational figures.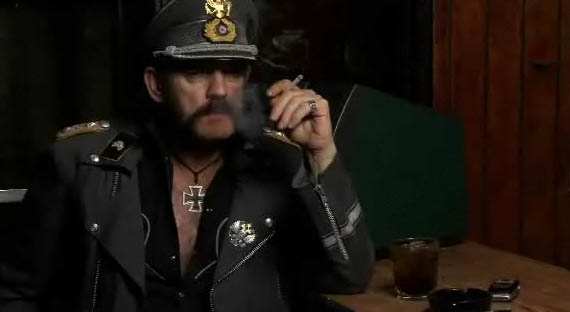 Hard living doesn't exactly seem to have taken its toll. Despite a steady diet of Marlboro Reds and Jack Daniels (Lemmy says he never has a hangover because he's never completely sober) and the occasion line of something illicit (his band's name is slang for an amphetamine enthusiast), he doesn't look that much the worse for wear than any other 65 year old. Day after day he still crams himself into a pair of tight black jeans, affixes his cowboy hat and Iron Cross necklace and heads down to the Rainbow Bar & Grill on Sunset for an evening of whiskey, cigarettes, video games and the occasional word with an admirer.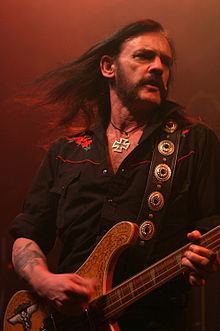 There are numerous contradictions inherent in his character, and Olliver and Orshoski don't explore these particularly deeply over Lemmy's two hour runtime. The singer lives, for instance, in a crummy two room apartment in LA, yet has several hundred thousand dollars of Third Reich memorabilia hanging on the walls (the avid WWII buff is quick to deflect any accusations of Nazi sympathies by frequently pointing out that he has three girlfriends, all of them black). Kilmister also appears close to his son Paul, yet has another son, Sean, whom he's never met, and is capable of being simultaneously thin-skinned and insensitive, easygoing and snippy, thoughtful and tactless.
Slight lack of depth notwithstanding the film is, however, an affectionate and occasionally affecting portrait of one of the rock world's most colourful personalities, and an honest and funny insight into an eminently singular life.
Special Features
Motörhead live concert clips (33 minutes)
Lemmy backstage and on stage with Metallica (21 minutes)
The Making of Lemmy (10 minutes)
Additional featurettes (13 minutes)