Kick-Ass
Dave Lizewski (Nowhere Boyís Aaron Johnson) is your average high school nerd. Heís invisible to women, his principal hobby is masturbation and amongst his trio of friends he Ďisnít even the funny one.í He does have one overarching fascination however: becoming a real-life superhero and ridding the world of evil, one bad guy at a time.
Thus Kick Ass is born. The DIY crime-fighter with the homemade costume captures the hearts and imaginations of the public, though he quickly learns he isnít the only vigilante in town. Former police officer Damon McCready (Nicolas Cage) has been steadily instructing his 10-year-old daughter Mindy (Chloe Moretz) in the finer points of gunplay and martial arts in the hope of bringing down ruthless crime boss Frank DíAmico. As Lizewskiís misadventures pile up he becomes unwittingly embroiled in the world of organised crime, and far from merely donning a mask and helping out the occasional hapless citizen, the well-intentioned Kick Ass discovers heíll be lucky to escape with his life.
Kick Ass is a riotous, rollicking and superbly entertaining outing from Director Matthew Vaughn, who also co-wrote the sharp-as-nails script. The immensely talented Johnson follows up a string of superb roles with one of the performances of the year, and newcomer Moretz is simply astonishing as pint-sized, potty-mouthed crime fighter Hit Girl. Cage channels the camp of 1960s Batman Adam West, the always menacing Mark Strong is suitably villainous as crime boss DíAmico, and Superbadís Christopher Mintz-Plasse also puts in an impressively nuanced performance as DíAmicoís duplicitous son, who befriends Kick Ass in the guise of would-be sidekick.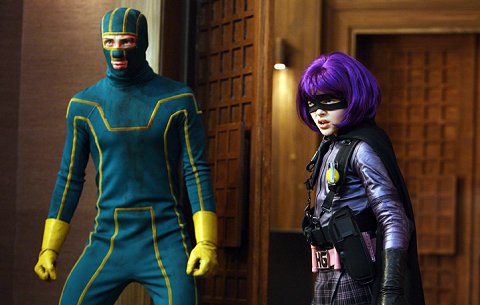 The film received criticism from family advocacy groups for its violence and profanity, with esteemed critic Richard Wilkins notably urging cinemagoers to boycott the movie, but the occasional curse word is hardly out of context in a film featuring and targeted at teenagers, and the violence is tempered by an undercurrent of clever humour throughout. The end result is a funny, engaging and effortlessly cool feature that delivers big on both laughs and action.
The DVD release contains an audio commentary with Vaughn, who despite being a little the worse for wear (the track was recorded the morning after the filmís London premiere) manages to provide a number of intriguing glimpses into the filmmaking process. Also on offer is an excellent 20-featurette on the filmís comic book origins. Included here are animated storyboards, excerpts from the original story and a highly enjoyable interview with the comicís lively creator Mark Millar.
Both English 2-channel and a 5.1 surround audio options are on offer, with the 2.0 being perfectly respectable and the surround track proving crisp and richly immersive. My only real complaint about the DVD release would be the picture quality. Kick Ass is a film that was made for HD. Itís bright, vibrant, visceral and hyperreal, and will doubtless look out of this world on Blu-ray. By Vaughnís own admission certain scenes fail to really Ďpopí on DVD, and while the visuals are certainly passable they lack the clarity and contrast provided by the HD format. A Tru-HD surround soundtrack would also be the perfect showcase for the filmís superb score, which was the cumulative work of no less than four composers.
Hey, Iím just saying...