Jamie Does...
Despite its fairly uninspiring title, Jamie Oliver's new series sees him darting off for whirlwind trips to some of Europe most picturesque and gastronomically exciting locales, conjuring some of his most toothsome recipes yet and gaining inspiration from a bevy of exciting local ingredients.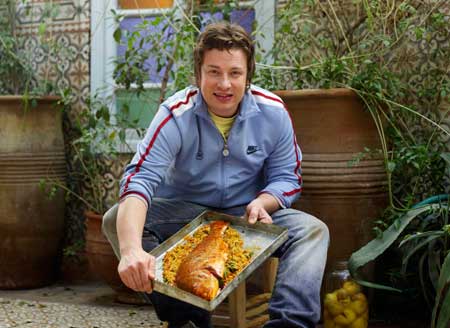 Though the premise of providing ideas for food-related weekend jaunts to the continent doesn't entirely translate to Australian audiences, the series is another vibrant and eminently enjoyable outing for the irrepressible Brit.
Stunningly shot, Jamie Does... consists of six episodes, each devoted to its own country and featuring an in-depth look at the cuisine and culinary traditions of that particular region.
The series kicks off in Marrakesh. Jamie dutifully visits the enormous, bustling bazaars but in keeping with his long held ethos quickly eschews the touristy regions in search of authentic Moroccan home cooking. He chats with local backers and chefs, dines with a Moroccan family in the traditional cutlery-free fashion, whips up a tartine or two or demonstrates the Moroccan version of one-pot bachelor cooking.
Next up Jamie visits the gorgeous region of Andalucía, Spain. A stunning cornucopia of mountains, seaside, Roman ruins and gentle modernity, the region is famous for its acorn-fed Iberico breed of pig, and Jamie takes full advantage. One of the most mouth-watering dishes of the entire series, a warm salad of chorizo, tomato and basil, is prepared against a backdrop of rolling hills, and we also get a taste of fast food Andalucía-style. That's fresh tapas enjoyed over a glass of beer with friends, and it's got McDonalds beat hands down. Jamie also cooks dinner for an entire village of 500, using what is quite possibly the biggest frying pan in the world (seriously).
The episode shot in Stockholm is typically visually arresting, and though some of the recipes won't appeal to everyone (I'll personally take a chorizo salad over rancid herring or salmon gravlax any day) many of the seafood dishes are delectable, there's a great exploration of the Stockholm markets and the raw reindeer, for the record, looks amazing.
Despite being a rampant, self-confessed Italophile Jamie has never before been to Venice, and his boyish enthusiasm at exploring the famed Italian city is contagious. He cooks risotto with a local master, trawls for prawns with local fishermen, prepares Carpaccio under a grove of trees by the canals, as you do, and finishes the day off with a champagne cocktail. As you do.
Next up is the most gorgeously shot episode of the series – yes I am a rampant, self-confessed Francophile – the Midi-Pyrénées region of south-western France. The episode opens with footage of the villages surrounding Toulouse, aka heaven on earth, before Jamie gets down to business. He goes truffle hunting with a verbose gourmand and his pig, treating the former to a 'superfresh' truffle omelette, then joins the lunch service of a small restaurant in Bache. Jamie also goes boar hunting with the locals, tours a sausage factory then prepares my own personal favourite dish of the series; a rustic Roquefort salad with smoked bacon, walnuts, fresh croutons and mustard.
The final episode sees Jamie visiting Athens. Though the Greek culinary traditions represent something of a departure – Oliver's quintessential recipes to this point could perhaps most aptly be described as Albion/Mediterranean fusion – by the episode's denouement Jamie is, in his own words, 'feeling the Greek love'. The recipes he whips up are superb and the backdrops, as ever, sublime; at one point he conjures a lamb kebab with dried oregano with night time shots of an illuminated Acropolis behind his shoulder – the views, like the resultant meals, aren't too shabby.
Audio & Video
The 16:9 widescreen transfer is, barring a discerning amount of grain, fairly pukka. The cinematography is excellent and the food prep and corresponding photography to die for. The audio is a 2.0, which is fine, and as usual there are no special features. No subtitles either, for the record.