I Know Who Killed Me is a psychological thriller horror that stars Lindsay Lohan as a college student called Aubrey whose life is tainted when she becomes abducted after a football game, only to be tortured and left dead by her assailant. Aubrey however survives and awakes, however believes that she is Dakota Moss, an ex-stripper who believes that Aubrey's life is in severe danger.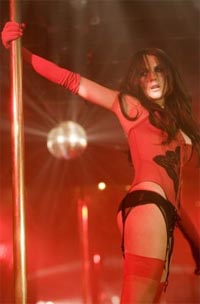 Lohan seems a little lost at both the characters in this psychological erotic thriller that will leave you guessing early on, only to be left a little bit disheartened towards the end. The movie is glued together through a variety of flashbacks, however even for this movie buff, joining the pieces together was an effort but the movie does have some saving moments that cannot be said here, unless you want the movie spoiled. Interesting and strange in a David Lynch kind of way.
Still in the mood for more? The movie contains a different alternative opening and ending for some more strange storytelling and for those Lindsay Lohan fans, the title contains an extended pole dance scene, strictly for Lindsay lovers. The bloopers are however, quite entertaining. Presented in Dolby Digital 5.1 with 1:78:1 anamorphic widescreen, this movie is picture perfect.