House of Five Leaves
One of a number of recent anime series to be set in Japanís ever-popular Edo period, House of Five Leaves tells of a meek young swordsman named Masanosuke Akitsu, who is down on his luck and desperately in search of work as a bodyguard. Though skilled with a blade Akitsu is so socially inept as to be almost unemployable, and is contemplating turning his back on samurai life for good.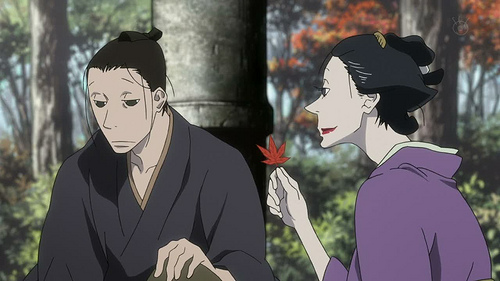 When recruited for a quick eveningís work by the sardonic, charismatic Yaichi, Akitsu inadvertently falls in with a gang of criminals known as the Five Leaves. Shocked to discover the gangís principal specialties are kidnapping and extortion, Akitsu is torn between his loyalty to the bushido code of honour and the need to earn a living. Meanwhile Yaichi sees real promise in the jittery youngster, and isnít about to let him go without a fight. But thereís more to this story than meets the eye...
All the hallmarks of a great period piece are present here in spades: wandering ronin, feudalistic lore, blood rivalries, warrior codes, ruthless thugs. Itís all effortlessly held together throughout the series 2-disc, 5-hour runtime by a consistently simmering, intentionally languid narrative and an intelligent method of exposition that more than rewards the viewerís investment.
Stylistically the series also incorporates elements of kabuki and woodblock prints into its backgrounds and character designs, which are amongst the most unique of the genre. The exaggerated faces are particularly striking, all stretched mouths, elongated noses and sharp expressions of disdain - this isnít a particularly warm series visually, but it is one thatís surprisingly easy to warm to. Moving very much at its own pace, brooding but never moribund, House of Five Leaves is a masterful blend of intrigue, moral contradiction, whimsy and melodrama, and a series that truly looks like nothing else before it.