Girls Bravo Collection
High school student Yukinari has been bullied and picked on by girls his entire life, to the point where he now breaks out in hives whenever a female so much as approaches him. One day he discovers a portal to a nearby planet known as Seiren, a parallel dimension inhabited mainly by women. Accosted by the entire randy, man-starved populace he quickly befriends beautiful free spirit Miharu and brings her back to Earth. With a bit of luck, and the aid of both Miharu and his shapely if aggressive neighbour Kirie, this meek, frigid and awkward teen might just turn into something approaching a Lothario. If the girls don't completely destroy his life first, that is!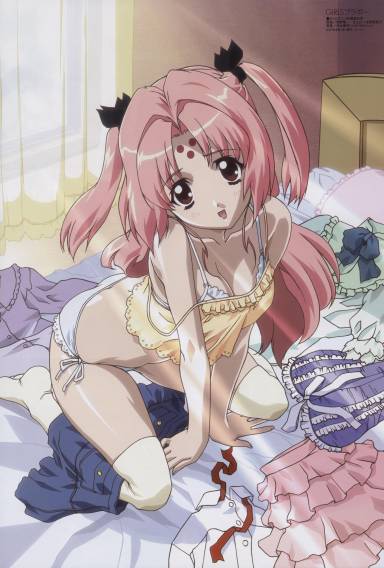 The slick touts Girls Bravo as a 'fanservice fest,' to which I can only respond: fuckin' A! Nubile, scantily clad and often naked animated honeys abound, and almost every woman Yukinari meets attempts to rip his clothes off in spite of his effeminate protests. Even when they are wearing clothes the female characters are either talking about sex or attempting to initiate it, or at the very least squeezing their ample bosoms and pert rears into a series of ultra-revealing outfits that could only spring from the fevered mind of a hormone-ridden adolescent boy, or an adult attempting to emulate one.
Bizarre, perverted, frenetic and totally unique, this is certainly one for the fellas. I attempted to get my girlfriend to watch an episode last night and she thought it was hilarious; she simply didn't appreciate that the Girls Bravo is not just an endless stream of gratuitous fan service and rampant T & A, it's a multifaceted study of gender roles in an advertising-soaked modern age which values beauty and youth above all other considerations. Oh, who am I kidding? It's T & A all the way. But it's fantastic, and one of the pinnacles of the oft-maligned 'high school harem' subgenre.
Audio & Video
Picture quality is good if slightly soft, character designs are excellent and backgrounds, for the most part, lush, painterly and highly detailed. Both the English and Japanese soundtracks are in the solid and consistent 2.0 that seems to accompany most of Madman's more obscure anime titles, and for once the English is probably the superior option: the American voice cast do a superb job, particularly 'Michelle Ruff' as Kirie, and on the Japanese dub Yukinari is voiced by a female, which makes the impotent little twit sound more like Daisy Duck than a Year 10 student.
Special Features
Not a great deal on offer here; clean openings and closings, original openings and closings (yay!), a couple of art galleries and a handful of trailers.