Genius Party & Genius Party Beyond
The premise behind the Studio 4°C project Genius Party was simple: gather together the world's most established and talented animation directors, provide them with a single connecting theme – the Spirit of Creativity – and give them carte blanche to interpret the brief in any manner they saw fit, without any restrictions on subject matter, running time or method of execution.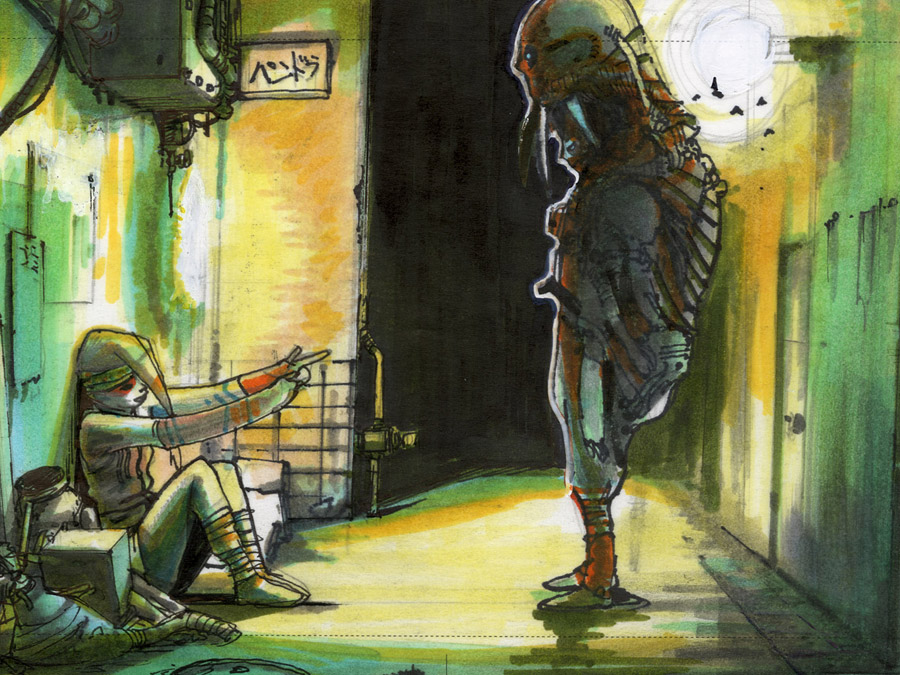 The directors involved in the anthology have been responsible for some of the most ground-breaking animated works of the past decades, including Perfect Blue, Akira, Steamboy, The Animatrix, Ghost in the Shell and Cowboy Bebop. The end result is an artful, eclectic and often haunting collection of musings on the very nature of creativity. Highly visceral, frequently challenging, occasionally perplexing and always imaginative, Genius Party functions as an unparalleled ode to the splendours of human creativity, and as a compendium of animation styles and directorial visions the present 4-disc box set may well be without rival.
Disc One of Genius Party comprises the following short films, or 'impacts':
1. Genius Party - Directed by Atsuko Fukushima (5:07)
2. Shanghai Dragon - Directed by Shoji Kawamori (18:40)
3. Deathtic 4 - Directed by Shinji Kimura (10:13)
4. Doorbell - Directed by Yoji Fukuyama (13:00)
5. Limit Cycle - Directed by Hideki Futamura (18:03)
6. Happy Machine - Directed by Masaaki Yuasa (14:25)
7. Baby Blue - Directed by Shinichiro Watanabe (14:04)
A second disc of Director Interviews rounds out the collection. The interviews follow the same sequence as the shorts themselves, and typically run between 10 and 20 minutes. The format varies for each, from straight-to-camera interviews to audio played over key pieces of animation, and Watanabe's 'interview for Baby Blue is actually more akin to a commentary track. Accompanying the principal director of each piece are CGI directors and other key creatives, and the interviews themselves are further augmented by the addition of rough cut and storyboard footage. Both the questions and the supplementary footage have been extremely well-chosen, and altogether provide a fascinating insight into the motivations and creative processes behind each piece.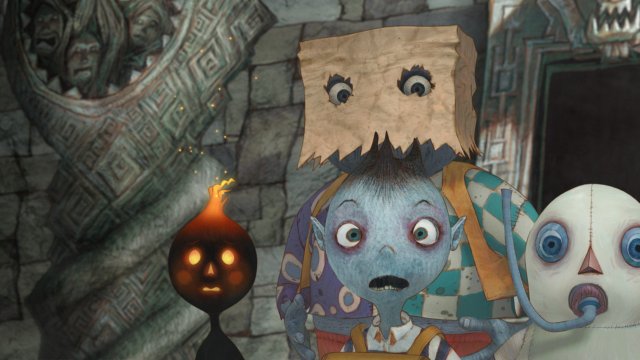 The second instalment in the series, Genius Party Beyond, is also included, and brings the concept to a neat conclusion... for now. Beyond comprises an additional five short animated films from directors responsible for such diverse fare as MEMORIES (Koji Morimoto) and the animated sequences in Tarantino's Kill Bill (Kazuto Nakazawa).
The full collection comprises:
1. Gala - Directed by Mahiro Maeda (13:59)
2. Moondrive - Directed by Kazuto Nakazawa (14:05)
3. Wanwa (The Doggy) - Directed by Shinya Ohira (12:58)
4. Toujin Kit - Directed by Tatsuyuki Tanaka (13:00)
5. Dimension Bomb - Directed by Koji Morimoto (19:02)
As was the case with the first instalment, a disc of director interviews has also been included. These follow the same loose format as those of Genius Party. The directors are asked for their thoughts on the finished works, describe the various techniques employed throughout, use rough cuts and alternate footage to further outline their visual style and describe what it was that initially drew them to the Genius Party project.
Also included in this double-digipack set is a 16-page booklet containing some arresting stills and a dual-language synopsis of each short. If the director profiles and production materials touted on the box cover are included then they are to found in the Japanese text; the English consists only of a brief and often intentionally ambiguous plot outline. This is perhaps as it should be, since the majority of the films defy easy description and the visceral viewing experience engendered throughout is not easily put into words.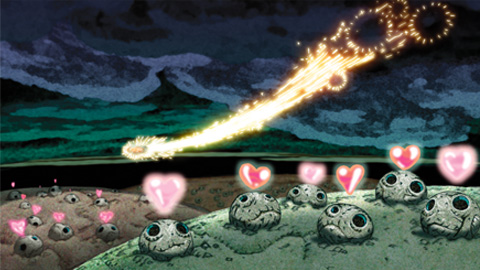 Though both collections are eminently impressive, for my money Genius Party Beyond is the superior of the two. Each of the five films are similar in length, and though a multitude of animation styles are employed throughout they are markedly more cohesive thematically than the seven shorts of Genius Party, each of which was possessed of a more fragmentary, frequently surrealist stand-alone quality. The box set comprising the first two volumes isn't entirely complete – upon initial release the Genius Party collection included as a bonus feature an additional seven short films chosen as part of Studio 4°C's Next Genius contest, which are nowhere to be found here – but it is an excellent and truly moving anthology and a kaleidoscopic homage to everything that's great about the animation genre. Definitely an essential purchase for anime fans, and those who like their creative output thought-provoking, refined and eminently imaginative. That means you!