Exit through the Gift shop
One of the most renowned street artists in the world, elusive Bristol native Banksy (real name unknown) has travelled an extraordinary journey from teenage tagger to gritty, non-conformist darling of the art establishment.
Voted Art's Greatest Living Briton in a 2007 ITW poll, Banksy's individual works have sold for over US$500,000 and been exhibited in galleries all around the world. His illegal street stencils blur the boundaries between vandalism and art, and have prompted heated debate between local councils and enthusiasts who consider the works a prized addition to the urban landscape. Many of the exceedingly valuable stencils have been almost immediately removed or painted over with a number of councils refusing to allow 'graffiti' of any nature, regardless of the proponent's notoriety, to besmirch the walls and buildings of their particular borough.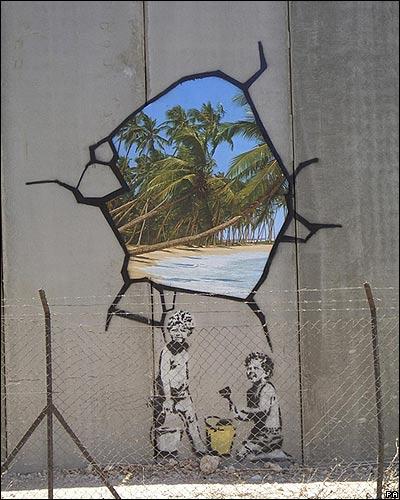 Now turning his hand to filmmaking, the man with the golden touch emerges with Exit Through the Gift Shop, a rapturously received gem of a film that once more has critics wondering whether they're in on the joke, or the butt of one.
The film purports to tell the story of Thierry Guetta, an eccentric vintage clothes dealer with the unusual hobby of obsessively filming the day to day minutiae of his life. Through his cousin, French street artist Space Invader, Guetta was introduced to many leading figures of the French underground art scene, filming, of course, a number of their nocturnal exploits. They found they liked having him around and other street artists expressed a desire that their work, impermanent by its very nature, be captured on film for some sort of posterity.
Over the course of the next few years Guetta filmed almost all the leading figures of the street art movement, except one: the notoriously elusive Banksy. When the two finally did meet it was something of a quasi-religious experience for the Frenchman, who clearly revered and idolised the reclusive Brit. Commissioned by Banksy to turn his thousands of hours of footage into a usable documentary, Guetta returned with 'Life Remote Control,' an unwatchable 90-minute visual freakout with no narrative or cogent structure whatsoever. Belatedly realising Guetta was no filmmaker Banksy decided to have a go at producing a film himself. Needing Guetta occupied, he ordered him to take a six month break from filming in order to focus on creating some art of his own, perhaps even holding small exhibition at some point.
Guetta took the directive to heart, and not wishing to disappoint his hero promptly set off on a course that no one could have expected. He remortgaged his house and sold whatever possessions he could in order to finance his own studio and a full time staff. There he held court like Andy Warhol at his Factory, issuing commands, commissioning projects and leaving the actual execution to his underlings. Now going by the moniker 'Mr Brainwash' Guetta then held an enormous, much-hyped and decidedly garish exhibition at an abandoned television studio in Los Angeles. Had Banksy created a monster, or was the entire process the natural culmination of Guetta's many years spent at the service of other artists?
No matter how you choose to look at it, Exit Through the Gift Shop is a thought-provoking, subversive and hugely entertaining viewing experience. Whether it's a hoax or a true to life visual document has been the subject of, as usual, much debate, but the end product is truly riveting. Either way it's a yet another triumph for the satirical, pseudonymous graffiti Master.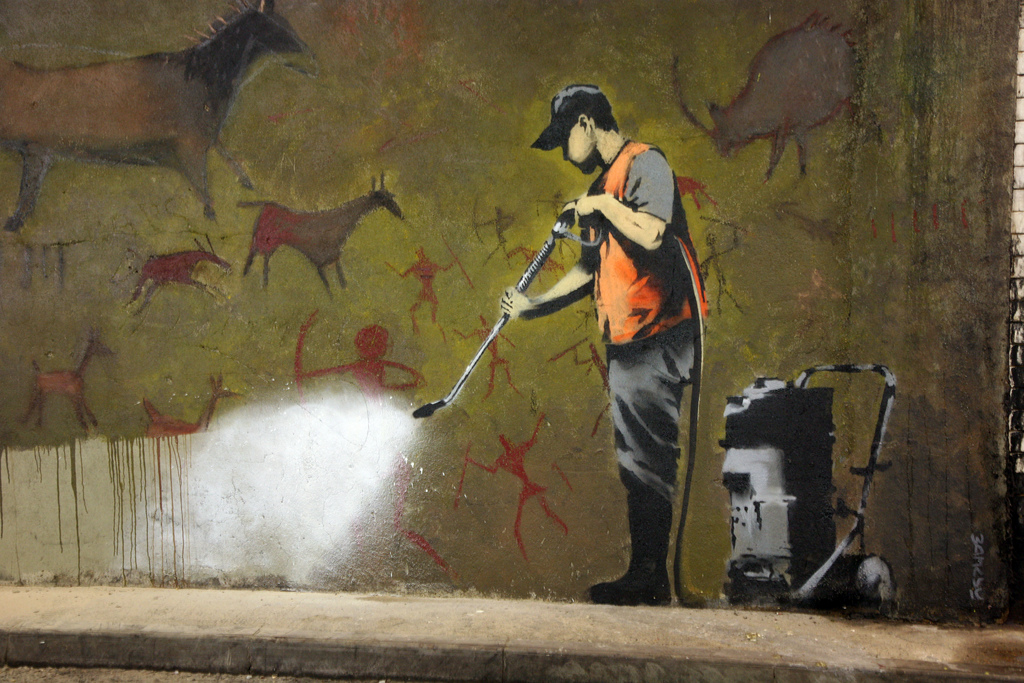 Audio & Video
The handheld footage necessarily varies in quality, given the illicit nature of the acts being filmed, but picture quality is strong throughout and the transfer is excellent. The English 5.1 surround soundtrack is likewise largely faultless.
Special Features
A couple of crackers on offer, including the never before seen Life Remote Control 'documentary' and B-movie, a 13-minute short film about the art of Banksy. There are also a handful of deleted scenes, a souvenir sticker pack and a pair of 'special non-functioning 2D glasses' that live up to their description.