Durarara!! Part 2 Episodes 10 - 17
For the uninitiated, Durarara revolves around a handful of citizens from the mysterious city of Ikebukuro and focuses on this city and these stories are from their perspective as it includes a variety of intertwining stories. Unfortunately for Ikebukuro, something is brewing with the street gangs and many of its denizens have seen The Black Biker on the streets, a headless motorcycle rider who is searching for her missing head.
It's the strangeness about Durarara that makes it so appealing to watch that is like the X-Files on acid. The series is heavy on action, the supernatural, drama and even romance that is quite a very well written series. The characters on the other hand are quite inspirational and very quirky. Part 2 of this collection continues from the previous storyline that reunites viewers with this kaleidoscope of misfits, heroes and villains.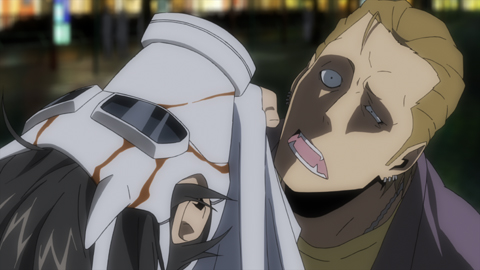 My favourite character in the series is Celty, the headless motorcycle rider who is still searching for her head as this sexy force of nature who communicates via PDA. The best aspect of part 2 is that more information is given to the viewer about these characters. For me, the main characters of Durarara is Mikado, a high school student and his best friend Masaomi who are generally the catalysts of the stories.
Also in part 2, we see more of the ramification of Mikado's Dollars plus a strange love triangle between Anri, Mikado and Masaomi. However as we learnt from part 1, Anri is unable to love due to her tortured upbringing but in Part 2, she seems more open to new experiences. Then we have another story that revolves around the Slasher who is oblivious to many of the cast but has become more violent towards the individuals of this city. Thankfully this collection explains the mystery even more and once again the series is full of unexpected twists and lots of more questions for the viewer.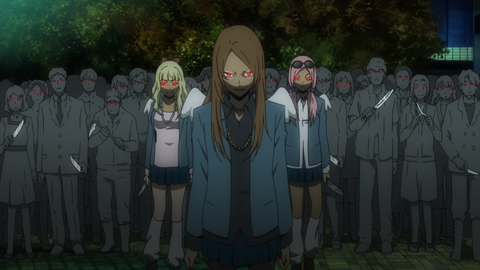 Video & Audio
Presented in glorious widescreen with an aspect ration of 1.78:1, the quality of the animation is highlighted by the rich colours, deep blacks and sharp images. During our viewing of Durarara!! Part 2, we could not find any errors in the video quality. Like part 1, the animation continues to well produced that makes it a treat to watch this series.
Supporting both the Japanese and English tracks, Durarara!! Part 2 boasts a Dolby Digital 2.0 soundtrack that is quite a good mix. The dialogue is clear, the background sounds have good levels and the music can be quite dynamic at times which suits the story perfectly. All in all, this is another high quality release from Siren.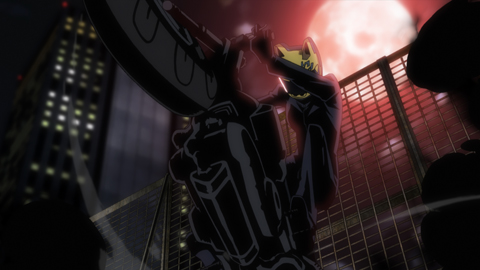 Final Thoughts?

Thankfully I just recently watched Durarara!! Part 1 on DVD which made the transition to the part 2 quite a flawless experience. The storyline of Durarara once again draws you into this intricate universe with its surreal imagery and almost philosophical story that is laced with some heart-pounding action and horror scenes. Compared to the original instalment, the characters of Durarara have really advanced which makes it ever so more appealing to see how they link to the bigger picture. With strong writing, characters that you actually give a damn about, Durarara!! Part 2 is recommended to those looking for something more than just high school girls in short skirts kicking ass or batting their eyelids. Still have doubts? Rent it!