Note: This is a review of the 3-disc set of The Talons of Weng Chiang as it appears in the "Revisitations Box Set" which also features The Caves of Androzani and Doctor Who: The Movie. The older 2-disc release of Weng Chiang is identical apart from the additional of a third disc, which contains a new set of extras.
It's worth saying upfront that I'm a Doctor Who newbie. I have the vaguest recollections of Fourth Doctor Tom Baker and the nefarious Daleks from my childhood, and more recent exposure to Russell T. Davies imagined series, but otherwise came to this widely regarded classic Doctor Who story afresh.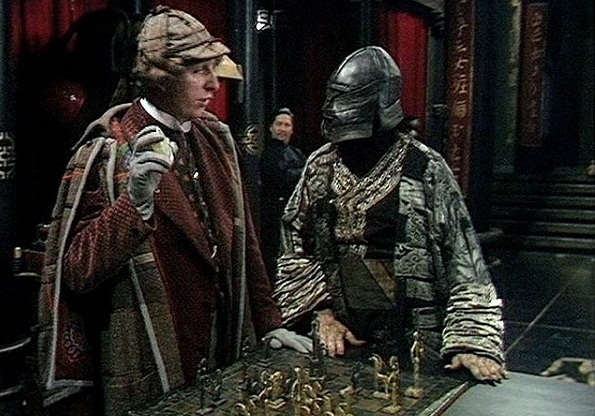 Your move, Doctor
Looking at this 6-part serial, 33 years later (it was the final arc in the 14th season of early 1977), it's surprising how well it holds up. Featuring impressive production values and costumes considering the show's budget limitations, The Talons of Weng Chiang sees the Doctor and his assistant Leela go all Sherlock Holmes in Victorian London, complete with cobbled streets, Chinese stereotypes, giant sewer rats and a "Peking Homunculus" henchman named Mr Sin. It's all very entertaining, theatrical and cleverly written, and for the first four episodes in particular (which focus on theatre magician, Li H'sen Chang), it maintains a cracking pace. But what fans will really want to know about are the extras –
Special Features
– which are smashing. Actors Louise Jameson, John Bennett and Christopher Benjamin, producer Philip Hinchcliffe and director David Maloney provide commentaries for all the episodes, and they are dense and entertaining, as is often the case when creatives look back on past work with the benefit of hindsight.
The second disc features a bundle of newly released extras, best of which isThe Last Hurrah, a half-hour documentary featuring producer Phillip Hinchcliffe interviewing a number of key cast and crew, including Tom Baker, as the Doctor, and Louise Jameson (who plays Leela). They, the writers and directors, speak freely and precisely about every aspect of creating the show, from specifics of character, to the production design, to the challenges of creating a passable giant rat on a TV budget.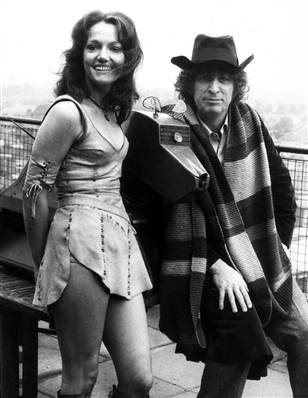 Tom Baker and Louise Jameson
Other features range from the historically fascinating – a 3-min contemporary interview with Tom Baker voicing his opinions on his iconic character – to hard-core fan curiosities such as the "Now & Then Featurette" which reveals the shooting locations as they are today, or Radio Times listings presented in PDF format.
The third disc features previously released extras including an hour long 1977 documentary on the Doctor Who series and its impact, and a curious 24-min of behind-the-scenes footage which is of so low quality as to be barely watchable.
Overall, though, there's enough quality extras here to warrant a double-dip from fans who've already picked up the stand-alone 2-disc set, especially if you don't already own the accompanying The Caves of Androzani and Doctor Who: The Movie.
Full list of extras:
Disc 1
Cast and Crew Commentary

Disc 2
The Last Hurrah Feature
Moving On Featurette
The Foe from the Future Featurette
Now & Then Featurette
Look East Regional News Broadcast
Victoriana and Chinoiserie Featurette
Music Hall Featurette
Limehouse Featurette
Photo Gallery
Radio Times Listings

Disc 3
Whose Doctor Who Lively Arts 1977 Documentary
Blue Peter Theatre
Behind the Scenes Featurette
Philip Hinchcliffe Interview
Trails and Continuity
Photo Gallery
TARDIS-Cam No.6 Animation