Cliffy
Back in 1983, Australia became enamoured by the real life underdog story of 61 year old potato farmer Cliff Young when he won the inaugural Sydney to Melbourne despite any professional training. Going down in the annals of Australian sporting history for his efforts, Young found himself an unlikely sporting hero and held up as an example of where determination and belief in one's dreams, no matter how seemingly ludicrous, could lead to success. 30 years later and the telemovie Cliffy hits our screens, brought to us by the director behind Strange Bedfellows and Charlie & Boots; can Cliffy follow in the footsteps of its eponymous hero and rise to victory?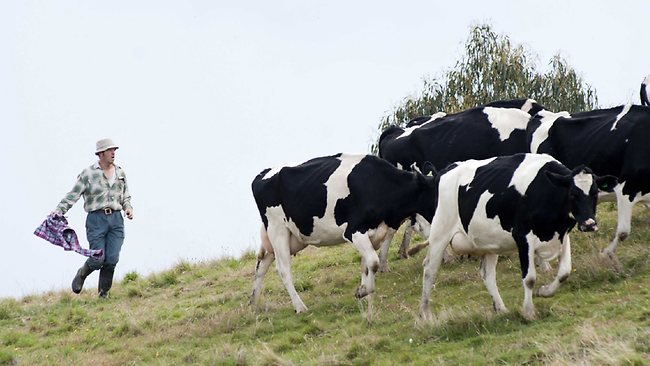 Played by Kevin Harrington, whose physical preparation for the part renders him almost unrecognisable from his role as roly-poly Lewis Moran from Underbelly, Cliff Young is considered as a bit of a joke in his home town of Colac – A 61 year old vegetarian who wiles away most of his days tending to his family's potato farm and has never even kissed a girl, let alone had sex. Struggling to keep up with the bills, Cliffy fears losing his beloved farm where he lives with his mother (Joan Sydney) but is unable to even sell a cow to raise the capital, such is his kindly nature.
When the farm's potato crop fails to yield a sufficient amount yet again, it appears that all hope is lost. However, Cliffy has a trump card to play – He plans to enter the Sydney-to-Melbourne ultra marathon, a gruelling 550 mile trek that's attracted some of the biggest names in long distance running, and bring home the $10,000 prize.
Despite his age and lack of any real training facilities, Cliffy dons his iconic gumboots and sets about getting in shape for the race, coached by his old friend Wally (Roy Billing). Word soon gets around the town and Cliffy's lofty ambitions are met with derision from most of the townsfolk, but public opinion soon starts to change after the 61 year old manages to qualify for the race. Skipping sleep in order to run 18 hours a day, he soon takes the lead and the nation becomes transfixed by the story of this unknown contender and his bizarre shuffling style of running as he becomes a media darling and even manages to find love along the way.
Directed by Dean Murphy, Cliffy is shot in a cinematic style that belies its made-for-TV origins; filmed in Albury and its surrounds, the scenery is stunningly beautiful and the production design effectively evokes the feeling of the Eighties through astute musical choices. I was lucky enough to spend a bit of time on set during production and the attention to detail in regards to capturing the feel of the era is second to none, particularly in regards to the wardrobe. The film will occasionally insert actual footage from Young's run into certain scenes and they sit seamlessly with the rest of the film, which is a credit to Murphy's adept direction.
Kevin Harrington ably carries the film, mastering Cliffy's iconic shuffling gait and lending credence to the charmingly naive but determined character. Much of the strength of the film lies in Cliffy's interactions with the more stoic Wally, although Martin Sacks, Stephen Curry, Krew Boyland and fellow Underbelly alumni Gyton Grantley all more than carry their own weight and help bolster the quality of the film's performances.
Somewhat ironically, the film runs out of steam a little bit once the big race is underway, with the third act in particular coming off as a little rushed as the filmmakers scrabble to wrap everything up. The scenes set in Colac's local pub are slightly corny but serve to show the change in the town's perceptions as Cliffy rises to the lead; nonetheless, some of the less capable performances can be found in these scenes, with many of the characters and dialogue coming off as small town caricatures, as well as featuring a superfluous subplot regarding a chap who took bets against Cliffy getting his comeuppance.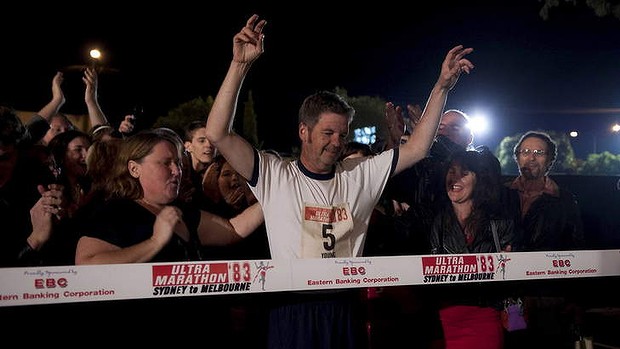 Infused with that larrikin sense of humour that resonated so well in Murphy's other films, like the man himself Cliffy takes a few missteps here and there but manages to rise above its low budget television origins to provide a charming and amusing insight into a unique chapter of Australian sporting history.
Special Features
Cliffy's sole special feature is a short Making-of documentary that covers the production process, Harrington's preparations for inhabiting the role of such a well known and revered sporting legend and some amusing anecdotes from the cast and crew.
Final Thoughts
For the most part Cliffy succeeds in achieving what it sets out to do – Present a heart-warming ode to the achievements of a man who took the nation by storm despite seemingly insurmountable odds. Occasionally the film suffers from "Telemovie Syndrome", with some weak performances and, conversely, the underuse of some of the more prominent members of the cast, but all in all it's an entertaining and light hearted look back at a time where an unassuming potato farmer could take on world champion runners at their own game and come out on top. Plus it also features a brief appearance by a certain, handsome Impulse Gamer reviewer, which can only be considered a good thing.