Clannad Part 1
Tomoya Okazaki is your typical high school student. He cracks wise, affects boredom in the classroom and his principal hobbies are hanging out with his buddy Youhei and complaining about his alcoholic father.
One day he meets Nagisa, a kooky girl who is repeating her final year of high school. Nagisa's avowed aim is to reform the school's drama club, and as Tomoya gradually lets down his guard to Nagisa and her friends he comes to realise they're just as flawed and vulnerable as he is.
Sounds girly, right? It is, and barely an episode goes by without at least one character bursting into tears for the most trifling of reasons, but there's also plenty of humour and the animation is superb. The storyline grows more compelling as the series progresses, and many of the cast members, such as violin-wielding space cadet Kotomi or Nagisa's hilarious and unrelentingly brusque father are amongst the most memorable animated creations of the past few years.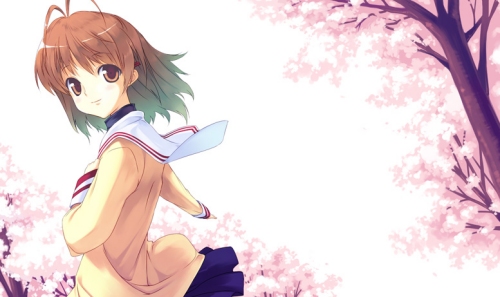 There are plenty of themes at play; the need for peer acceptance, the difficulties of transcending the traumas of one's past and the importance of family, no matter how surrogate or dysfunctional (the series' creator was under the mistaken impression that clannad is Irish Gaelic for clan). But we like Clannad because, aside from a fairly gratuitous and confusing pseudo-supernatural subplot and the occasional bit of garbled English dialogue, it's funny, cute and downright enchanting.
The series has been selling like hotcakes in Japan, consistently ranking first amongst sales of anime DVDs, no mean feat in a country which sees many hundreds of animated titles released each year. It isn't hard to see why; the series is an emotionally satisfying blend of humour and pathos, the school-age characters are sexy and interesting without verging on paraphilic and harem cliches are avoided thanks to some adroit storytelling and intelligent plotting. The present release from Siren, which contains the first 12 episodes of the show's 23-episode run, is another appealing and flawlessly presented import, and a must-see for fans of cutting-edge, kawaii high school anime.
Audio & Video
Both Japanese and English two-channel audio is on offer, and both are surprisingly potent. Much thought has also gone into the soundtrack, and the four-man sound production team have done a masterful job on the score. The 16:9 widescreen transfer is pretty impeccable, and though character designs at times border on the generic the backgrounds are as luminous and detailed as any we've ever seen. Softer tones abound, and there's really only one word to describe Clannad's visuals: pretty.