Chicago Bulls the Essentials
Local distributor Beyond Home Entertainment have been on fire of late, pumping out classic NBA box sets with the sort of aplomb with which Michael Jordan used to deliver well-timed jump shots over the heads of despairing opponents.
Tortured analogies aside, Chicago Bulls - The Essentials is another impeccably presented and hugely enjoyable homage to one of basketball's most electrifying franchises. Collected herein are five classic games which aim to encapsulate the multifaceted greatness of this storied and star-studded team. Included in their entirety are:
- a nail biting 1975 Finals matchup against the Warriors
- a gruelling 1995 game which pits a newly-returned Jordan against Patrick Ewing's gritty Knicks
- Game 6 of the 1998 Finals in which Chicago (and Jordan) won their sixth title in eight years
- a 2009 triple overtime thriller against the Celtics, and
- a 2011 tussle against Miami in which new superstar Derrick Rose asserts his dominance
It's a well chosen and representative selection, and one which perfectly complements Beyond's previous Bulls outings like their Ultimate Jordan and Chicago Bulls: The 1990s box sets. As far as I can tell the only game repeated from previous sets is the 1998 Finals game against the Utah Jazz, and for some reason it looks markedly better here than it did on the Ultimate Jordan: Deluxe Edition - picture quality is sharper and the colours are more vibrant. Go figure.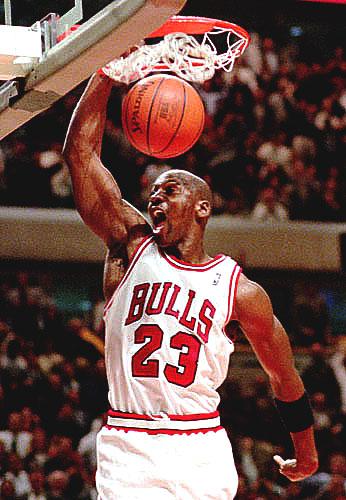 The only gripe possible with the set is that each game is described in too much detail on the box cover - 'One point win against Golden State' etc - and in addition the end score of each game is listed on the disc itself! I realise that for a game to be included in such a collection Chicago is going to win, but I don't want to know the exact score and the circumstances of the victory before I've even watched the game.
At any rate it's a minor point. Everything which made the Chicago Bulls one of the most captivating and dominant teams in modern sports is on display here, and Beyond have done a typically bang up job bringing yet another box set containing hours of classic footage to local shores. Bulls fans definitely owe it to themselves to pick up a copy, and basketball fans in general likewise will be far from disappointed with the action contained herein.
Audio & Video
Aspect ratio is a mixture of 4:3, 14:9 and 16:9 dependant on the age of the source material, and picture quality is excellent throughout - there's the usual hint of grain on the long shots, but all in all the games collected here are sharp and blemish free. Audio is the usual crisp, solid two-channel affair and is likewise perfectly serviceable throughout.