Chanbara Beauty
In the increasingly complex hierarchy of low-budget Japanese horror fare, Chanbara Beauty probably ranks somewhere in the middle. It's not as accomplished as Blood: The Last Vampire nor quite as insanely frenetic as Vampire Girl vs Frankenstein Girl or Machine Girl, but it's somewhat better than the recent Big Tits Zombie, to which it is stylistically and thematically similar, though Chanbara Beauty features more zombies and fewer tits.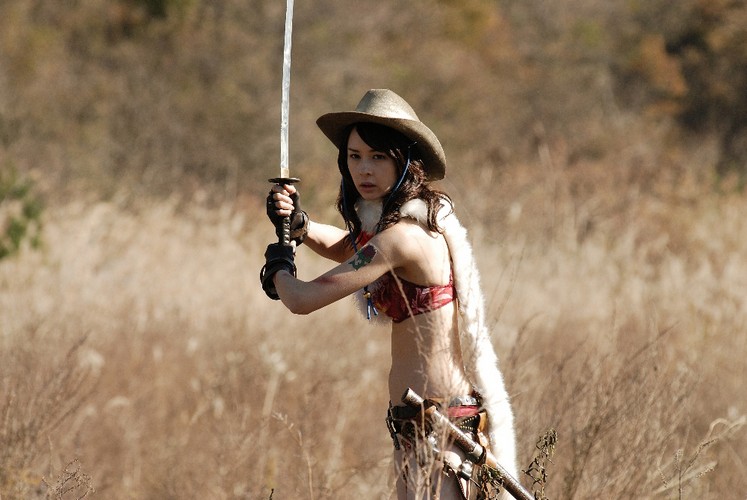 Madman have the marketing of the genre down to a fine art – I for one only need know that a film features a scantily clad Japanese woman wielding a samurai sword or an abundance of tits and zombies to be wholeheartedly sold, and the stills adorning the Region 4 release of Chanbara Beauty expertly exploit this fact, as does the tagline of 'Blades, Bikinis and a Fistful of Zombies.' So wholly indifferent these days are the genre's target audience presumed to be towards matters of authorship (or auteurship) that neither the front nor back of the box cover even bothers to mention the names of Chanbara's writer, director, producers or cast members. After all there are tits to be had, and zombies and bikinis too, and that's presumably all that really matters.
For those that care about such things, Chanbara Beauty is a fairly faithful live-action interpretation of the popular OneChanbara video game. The film revolves around Aya (Vampire Girl's Eri Otoguru), a 'bikini-clad samurai chick' who roams a desolate and chaotic future world inhabited by the walking undead, the results of a series of grotesque experiments conducted by a deranged scientist. Aya searches for her sister (Chise Nakamura of the stunningly-titled Saki Secret Undercover Agent: Wildcats in Strip Royale), finds an unlikely ally in the form of 'mysterious gun-toting leather outlaw' Reito (newcomer Manami Hashimoto), there's a bit of back story, plenty of surprisingly well-choreographed fight sequences, much bloodshed involving plenty of cheap SFX, a bit more back story, a bit more bikini-cowboy hat-samurai-swordplay, roll credits.
The Other Stuff
The film was written and directed by Yohei Fukuda, whose previous directorial outing was the highly-regarded Gakku Ura Site. Whilst far from perfect his Chanbara cleverly wrings every drop out of its modest budget and many of the special effects are highly accomplished, at least by the standard of cheapo Japanese exploitation flicks. There is a glaring technical deficiency in that the film is remarkably, distractingly dark throughout, and not just because it's set predominantly at night – it really is a bleak, grainy, shitty transfer. This is surprising on two counts; Madman's Nippon nipple-fests usually look the tits, so to speak, and prior to making the transition to directing Fukuda was an accomplished cinematographer who had worked on a dozen or so medium profile Japanese features. At any rate the transfer is rough as zombie guts, though the Japanese 5.1 and 2.0 audio mixes compensate somewhat by being solid and consistent, if nothing overly special. There are no bonus features to speak of, just a theatrical and some Eastern Eye trailers.
The Verdict
Entertaining enough in an Uwe Boll, I-know-what-I'm-getting-myself-into-here kind of way, Chanbara Beauty still fails to live up to its titillating* cover art. The shocking picture quality and lack of extras mark it as something of a disappointment, but it still has its moments.
*pun most certainly intended