Beyond the Black Rainbow
Strong drug themes, sexual references and violence: this is my kind of fillum!
Beyond the Black Rainbow is a madcap slice of experimental cinema from first-time director Panos Cosmatos, and the end result of a childhood spent perusing the horror section of the local video store in wide-eyed wonder. Clearly a student of Kubrick, Cosmatos combines liberal lashings of 2001: A Space Odyssey and A Clockwork Orange, with plenty of stylistic homages to sci-fi stalwarts like THX-1138 thrown in for good measure. Thereís a touch of Gasper NoŽ in there, definitely some David Lynch, and very possibly some Matthew Barney. One of the triumphs of the film, in fact, is how in spite of the cavalcade of cinematic references the end result somehow feels at once unique and eerily familiar.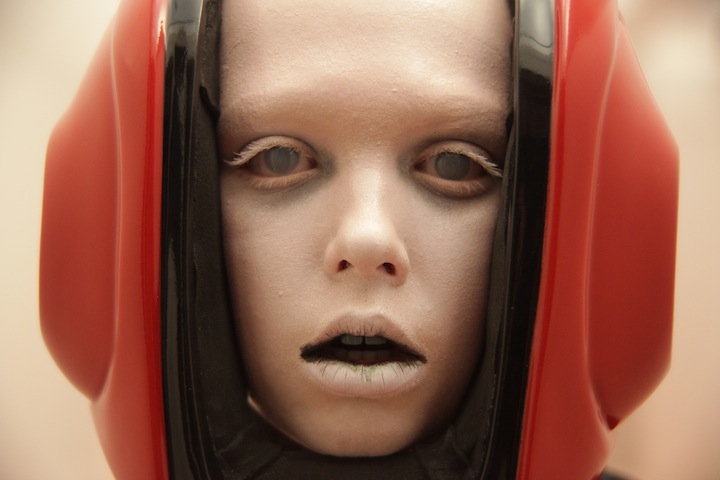 The storyline exists more to propel the visuals than the other way around: the year is 1983, and a young girl with telekinetic powers is trapped deep within a labyrinthine research facility known as the Arboria Institute. The Instituteís demented head scientist Dr Barry Nyle is fond of probing the mind of his pet-like captive, but would never dream of willingly parting with his beautiful prize. So she decides to escape, before the doc can subject her to any additional testing or bore her silly with another of his cardigan-clad rap sessions. And thatís when things get weird...
Actually, things get weird long before that point. Cosmatosí debut is a cornucopia of hallucinatory imagery, and plays like a cross between a fever dream and an acid trip. Michael Rogers hams it up superbly as the creepy Dr Nyle, and stunning newcomer Eva Allan also shines (insofar as her drugged stupor will allow) in one of her largest roles to date. Fans of druggy, hypnotic, Burroughs-esque material will find much to enjoy in Beyond the Black Rainbow - itís a demanding film, certainly, but provided youíre willing to immerse yourself in it itís also one heck of a trip.
Bonus Features
Theatrical Trailer