Famously cited by Quentin Tarantino as his favourite film of the past two decades, Kinji Fukasakuís bloody 2000 opus engendered a wave of critical discord upon its initial release, and remains highly controversial for its frank depiction of teenage savagery within a context of pitiless survivalism. In the wake of an increased sensitivity engendered by the Columbine High School shootings the film failed to secure a North American DVD release for well over a decade, a situation set to change in the next couple of weeks with the filmís long-overdue appearance on Region 1 DVD and Blu-ray slated for March 20, coinciding rather avariciously with the recent advent of the similarly-themed (or to some, baldly plagiarised) print and film juggernaut which is The Hunger Games.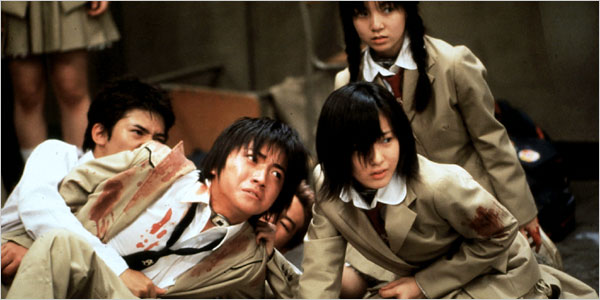 At any rate, on to the nitty gritty. Most will by now be aware of the plot of Battle Royale from seeing the original movie or having read The Hunger Games: in a dystopic future Japan marred by political and financial instability and Ďa generation of youth out of controlí (which after a recent trip to Japan would seem an unlikely occurrence in any event, apocalyptic or otherwise Ė everyone is so wonderfully friendly), the government decides to enact the Battle Royale protocol. Whether this is designed to thin out the populace slightly or give the wayward youth a jolly dose of good old-fashioned discipline is not exactly clear. What is clear are the rules, and after being dumped on a remote island with no chance of escape several dozen hapless high schoolers are informed of these thusly:
1. The game lasts three days
2. Each player is entitled to food, water, and a random weapon
3. If more than one player survives, everyone dies
4. There is no escape
I mentioned that last one in the preceding paragraph, but it seems worth reiterating. Watching the doomed teens every move are a host of video cameras and other surveillance equipment, not to mention a sadistic overseer (played to ruthless perfection by legendary Japanese actor/director Takeshi Kitano) and his band of murderous cronies. What follows is kind of like Big Brother crossed with Cannibal Holocaust, and the end result is bloody, confronting, compelling entertainment at its nightmarish finest.
The previous Region 4 edition was brought to these shores by Shock, if Iím not mistaken, and quite a few years ago now. Having recently acquired the Australian rights Madman have approached the project with typical gusto, and in addition to boasting a punchy 16:9 transfer and 13:30 worth of restored footage, give or take, their new Directorís Cut edition also incorporates all that was most worthwhile about its predecessor in regards to bonus fare. Here youíll find the 50-minute Making of Battle Royale (not to be confused with the Battle Royale Documentary, a separate beast altogether), Audition and Rehearsal Footage, Special Effects and On-Set Featurettes, Behind the Scenes Footage, a short Tarantino TV Spot, and more.
With picture quality an overwhelming improvement over its rather murky Shock forbear, and with the all-new DD Japanese 5.1 audio finally giving Masamichi Amanoís pulsating score the respect it deserves (Verdiís Requiem Mass, for one thing, has never sounded so good), there is simply no reason not to head to your nearest DVD emporium in a fit of patriotic fervour and pick up a copy of Madmanís excellent new R4 treatment. Put quite simply itís the best this seminal film has ever looked or sounded, or at least it will be until Anchor Bayís Region 1 Blu-ray comes out, though from what I gather folks in the US will have to fork out for the Complete Collection BD box set if they want all the bonus features contained herein. Suck on that, suckers!