A Single Man
When esteemed Gucci house designer Tom Ford announced he was making the switch from high fashion to filmmaking, the move was treated with some scepticism. He might be talented in the dressmaking department, what did he actually know about cobbling a movie together?
Happily the naysayers have been proven utterly wrong, and Ford's opus was one of the resounding critical successes of 2009. Based on the novel by Christopher Isherwood, A Single Man has been written for the screen, produced, funded and directed by the budding auteur, and the project is very clearly a labour of love. Each scene – actually, each shot – gives the impression of having been carefully crafted, and Ford cleverly manipulates colour, light and space is what is ultimately an emotive and deeply compelling character study.
Set in Los Angeles in 1962, the film concerns a day in the life of George Falconer (Colin Firth), a college professor struggling with the death of his long-term partner (Matthew Goode) eight months prior. The fastidious Falconer grows increasingly desperate as his day progresses and several times contemplates suicide, ultimately saved, at least temporarily, by the attentions of his devoted friend Charley (Julianne Moore), a budding friendship with one of his students (Scrubs' Nicholas Hoult) and a chance encounter with a stunning male prostitute (Spanish model Jon Kortajarena).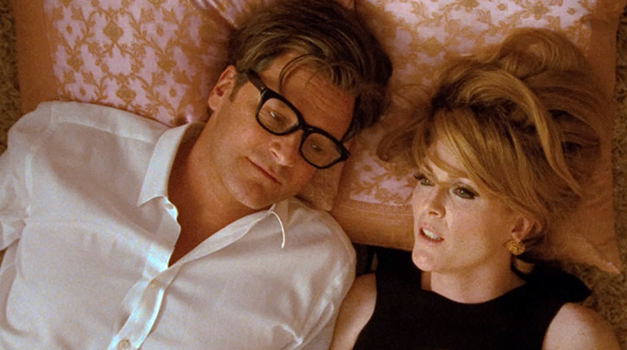 Despite the occasionally bleak nature of its subject matter, A Single Man is infused with a subtle humour and remains a poignant and captivating film to the last. Firth is entirely convincing as the piece's grief-stricken protagonist, and the story is both a poetic evocation of love and a solid condemnation of the blatant manner in which same-sex relationships are marginalised. Falconer carries himself with such dignity through his pain and Firth so ably evokes the sense of loss and abandonment experienced by his character that the viewer becomes more than simply a passive observer; the emotions conjured are palpable, the sorrow all but tangible.
How Ford managed to inject so much vibrancy into a film with such a weighty premise is testament both to his skill behind the lens and the not inconsiderable talents of Colin Firth, who puts in one of the performances of his career. Intersecting flashbacks and vignettes round out the narrative, and despite its manipulation of chromatics and linearity the film never feels contrived, its artfulness remaining tasteful and intrinsic. The DVD release itself boasts admirable visuals, a flawless 5.1 surround soundtrack and an excellent half-hour Making Of, which features interviews with the director, star and other key creatives.
A Single Man is a work of singular beauty, and I for one can't wait to see what Ford comes up with next. This debut feature is, like one of his renowned designs, a work of stunning elegance.