Although TrackMania has been available on the DS for a few years now, Turbo is the latest instalment for DS petrol heads to engage in. Sporting a variety of whacky tracks that make the TV series of Wipeout look like child's play, TrackMania Turbo DS is the perfect solution for a thorough gaming experience.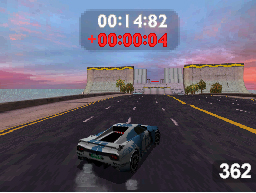 From races to multiplayer and best of all, the ability to create your tracks, TrackMania Turbo is a 360 solution to not only gaming but community spirit. How so you may ask? That's easy, the tracks that you create can be played by your friends. And for those older gamers... this is as close as we'll get to Stunt Car Racer!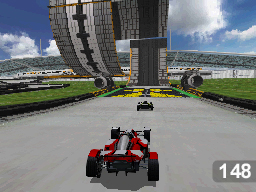 At it's heart, TrackMania Turbo DS (now known as TM for this review) is racing game that boasts over 130 amazing tracks which allows for loops de loop, amazing jumps and a variety of vehicles to select from. In terms of gameplay, TM offers the player three modes of play that include race, platform and puzzle. Race is basically getting from point A to B but the clock is your enemy but with platform and puzzle, it opens up some truly tweaked racing gameplay.
Platform removes the clock and only penalises the player if they crash or fail to perform one of the ridiculous jumps or loops. This takes away the pressure of a clock as is perfect for mastering the tracks. Lastly, we have the puzzle mode that gives the gamer a half finished track and using your stylus, you need to ensure that the track is complete by a few choice pieces.
Very interesting and very fun at the same time. Finally if you want more control of the environment, there is a rather in-depth track editor which allows you to create and share your TM masterpieces. This does take some time to master but it's definitely worth it and some of the tracks we created were quite impressive. In relation to the controls, sometimes console rage comes into play, especially when you miss that critical jump or don't have enough speed to make a loop. This does become a little fiddly as the difficulty increases and to make matters worse, sometimes it feels like the DS is a little heavy with all those hard and fast turns.
Apart from single-player, the game contains a fun multiplayer mode that allows for wire DS multi-card play and wireless DS single-card download play with up to 4 players. Sharing tracks can also be done via the wireless feature of the DS. Tracks can also be shared with the greater DS community online if that is your style. Lastly, you can even race other people from around the world thanks to the Wi-Fi capabilities of the DS and best of all... no lag!
Graphically, it's a rather good looking game on the DS with some cool environments that include a stadium, island, snow and a coastal track. Initially the tracks are a little dull but as you progress, the tracks improve as do the stunts and loops that you need to race with. The sound effects contain all the grunts of the cars and there is an ambient style of racing soundtrack that sounds a little DS but it does work.
The biggest change in this instalment of TrackMania for the DS is the inclusion of online options that really makes this a community based game. The car racing is decent and the controls are well mapped on the DS. Although the track editor does take a little time getting use to, the DS stylus is the perfect accessory for this. If you're after some whacky races than you've definitely come to the right place. It's a fun game from start to finish that has tons of racing replay value!