Runaway 2: The Dream of the Turtle
The sequel to the popular "Runaway: A Road Adventure" that was a sleeper hit on the PC has returned on the Nintendo DS in Runaway 2: The Dream of the Turtle which in its essence is a port of the classic PC game. This game features your traditional point and click adventure game genre that features a variety of different puzzles and challenges for the gamer to complete or get frustratingly stuck on.
Before commencing the game, the title features an entertaining opening sequence that has our hero Brian and his lovely girlfriend Gina on an Island in Hawaii who are debating on whether they should fly to a secluded island. When the decision is made, both Brian and Gina board their plane, only to start their holiday nightmare.

When the elderly pilot loses consciousness during the flight, Brian is forced to say goodbye to his girlfriend as he forces a parachute onto her as he has the task of landing this doomed flight. Although Brian manages to successfully land the plane, he is soon thrown into a world of conspiracies and strangeness that not only involve the military but also travelers from another world or so it seems. Classic storytelling at its best!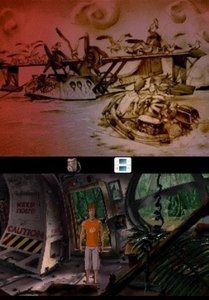 The in-depth story and gameplay has been nicely implemented onto the Nintendo DS, however the developers have unfortunately needed to cut a few corners in order to successfully convert this title to the portable console format.
Even so, the game is still quite enjoyable and if you were a fan of the PC game, I would suggest you might give this one a miss, however if you're a fan of adventure games and you've never played the PC version, than this might be the game needed to hold you over the Christmas break.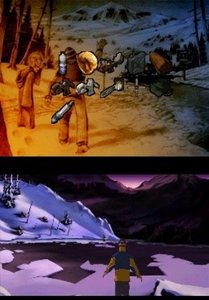 In its essence, the game is your classic point and click adventure game where you must explore a variety of environments in order to progress. The downside of the title is the size of the DS screen which means that at times, some clues will be missed which at times is quite frustrating. Thankfully there is a hint system that will assist you at times but interestingly enough, the control system of the DS works quite well with this format.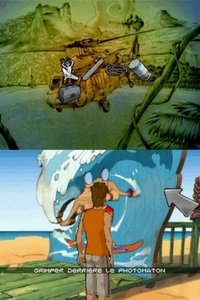 Graphically, the title is good on the DS, although no way as impressive as the PC due to the size of the game. Musically, the score is great, however where the PC version did shine is through the voice acting that is unfortunately lacking on this version.
At the end of the day Runaway 2: The Dream of the Turtle is an interesting DS that fans of the genre will enjoy, especially those gamers on the go. Solid story telling, a good game engine, although sometimes frustrating, it's still worth the admission.