Puzzle Quest Galactrix
With the DS being almost overrun by puzzle games, Puzzle Quest Galactrix is actually something different to this genre and actually has a storyline and is set in deep space, unlike Mayan Temples or underworld crystals. Needless to say, the new gameplay and science fiction storyline actually works quite well together and truly distances itself to its other puzzle gaming relatives.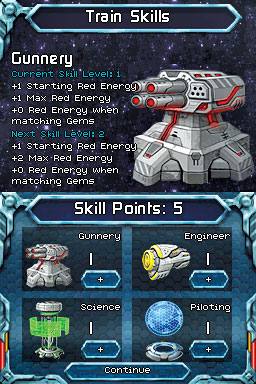 In its essence, the title could almost be considered a sequel to Puzzle Quest: Challenge of the Warlords, however the developers have ensured that their current puzzle epic is actually as far away from their original title as possible. It's almost like a RTS puzzle game in that respect and best of all, the battles or puzzles are quite short, ensuring that you can play this game almost anywhere.

General Features
Create a persistent pilot who gains skills and ships as he completes more battles

Each enemy you fight will require different tactics

Individual battles require only 5-10 minutes of time

Experience a conquer-the-galaxy style campaign mode

Find new objects to make your pilot and ship all-powerful

Trade supplies throughout the galaxy to increase your wealth

Meet companions who will join your crew and aid you in
The story behind Galactrix begins with a horrifying scientific accident that has caused mankind to be targeted for extermination. As Earth is destroyed, four corporations become the new political power of the remnants of humanity and man has headed toward the stars.
Fast forwarded several hundreds of years and mankind has finally rebuilt its civilization and this is where the player comes in as they must select a pilot for their mission and uncover a dangerous mystery.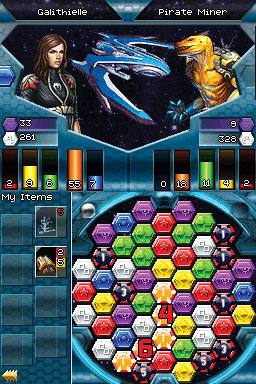 Without spoiling the story, it is actually quite engaging and at times has elements of RTS and RPG and players interact with a variety of planets and creatures from around the galaxy. The main premise of gameplay is of course the puzzles and thankfully the developers have ensured that there are some tutorials to assist you in mastering the gameplay.
To make things a little more tricky, you must also challenge opponents, however there are also some tools to disadvantage your competitors and also free turns. Compared to those classic games like Bejeweled and Zuma, Galactrix is a lot more complicated, however in a good way as the gaming environment is quite "3D" as opposed to those aforementioned games which are 2D. You also need to watch your ship in order to prevent your opponent from obliterating it.
The resource aspect of the title is that you need find certain resources by mining planets which begins another mini-game to change the tact of the main game. As you visit different galaxies, just like Elite on the Commodore 64, each civilization you encounter has their own agendas, currency as the like which truly gives this title a unique look at the traditional puzzle games.

You can even own up to three different space ships at a time, each with their own pros and cons that when linked to the various strategies to completing the "puzzle", makes for some challenging yet entertaining gameplay. The mini-games are also quite diverse such as the "hacking" of leapgates which are used to transport your ship to various parts of the universe and you need to match a certain colour in a specific amount of time.
With great graphics, an immersive soundtrack, Galactrix is a brilliant puzzle game that suits the DS perfectly which we could happily recommend to a variety of different gamers as they attempt to explore the galaxy through this wondrous puzzle universe. Brilliant!