LEGO Battles
LEGO is cool and it's good to see that another generation are still creating their own masterpieces and are unleashing their inner muse within them. Even better, the world of LEGO has been successfully transferred to the gaming world with big hits such as LEGO Batman and some smaller hits such as LEGO Bionicle Heroes. This time it's the Nintendo DS turn with an interesting real-time strategy entitled LEGO Battles.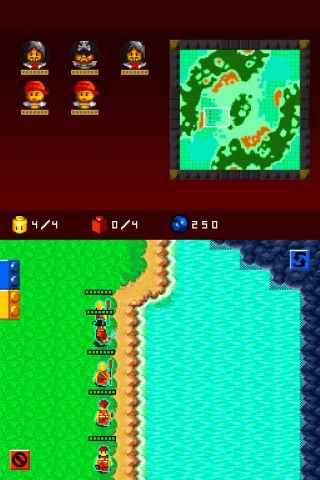 Set in the classic world of LEGO which features Pirates and Astronauts, the game is oozing with LEGO references that actually look like real-world LEGO blocks from the basic yet colourful environments to those classic LEGO characters and needless to say, our first impressions had us reminiscing back to our childhoods. The game does contain some story elements, albeit quite basic at times such as protecting your kingdom from the undead or exploring the surface of a planet.
The essence behind LEGO Battles is a real-time strategy which allows players to build and battle their LEGO through six different campaigns, each with their own themes from different LEGO genres. Interesting enough these genres overlap each other so don't be shocked when you're attacking enemy astronauts with knights or ninjas. As you do progress, you get more access to different units and thankfully so do the enemies to liven things up.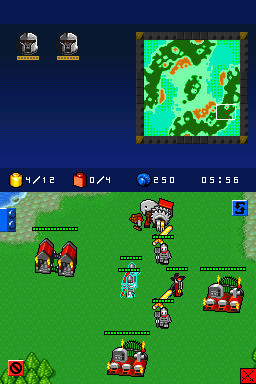 The creators make good use of both the screens on the DS with the top screen used to display key information to the player and the bottom display the battlefield which allows you to control the pieces and environment. I was a little apprehensive when I first heard about this game, however the stylus works perfectly with the RTS genre and it was actually a pleasure to order units, build building and engage in a variety of in-game options such as upgrades and even spells for certain units.
Although the game is reminiscent of those early RTS games, the analogy of if it aint broke, don't fix it works quite well. Creating bases, upgrade units was definitely the highlight for us, however the title becomes a little complicated when you engage in battles.
Battles are a simple enough procedure, just order your units where you wish them to fight, however if they come up against a rock or a tree in the "wrong" place for them, they keep trying to go through, walk in circles or decide to stop. Unfortunately this throws a spanner in the cool gaming environment and if you are not a patient person, than you might be better to look elsewhere for your RTS fix.
When it does come to the battles, you'll have a variety of different units to help with your battles which does make things interesting as you pit different LEGO eras against each other, however most units balance out quite well. If you have a friend, you can even play LEGO battles wirelessly through the DS multi-card, although we could not test this feature but I'm guessing it will probably be a "tad" more entertaining than the single-player.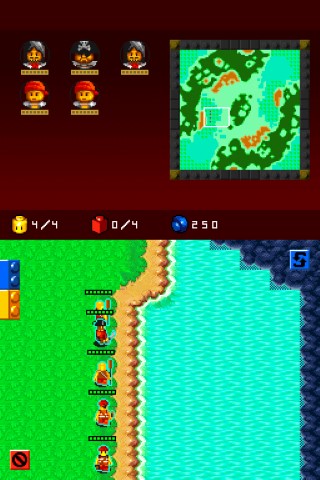 Graphically, the title is quite decent on the DS that is oozing with LEGO stereotypes and clichés. The title is a very colourful and the characters interact well with the gaming environment in terms of looks, it's just their interaction with objects that cause them to get stuck. Some great LEGO "sounding" sound effects and an interesting score nicely rounds this title up.
Final Words? LEGO Battles is reminiscent of those late 80's and early 90's real-time strategy games in terms of gameplay but the most annoying aspect of the title is that the developers could not master the path finding skills of the characters which forces the gamer to monitor all their units. Unfortunately this takes a healthy point off the final score that could have made LEGO Battles a good game, rather than an average game for the professional gamer. For kids, they will more than likely enjoy this virtual LEGO experience.