Jewel Quest Expeditions
The Nintendo DS is perfectly suited for puzzle games and developers iWin have created the perfect puzzle game for this console with over 180 different puzzles to solve and also the ability to play with up to 8-players via the innate wireless system.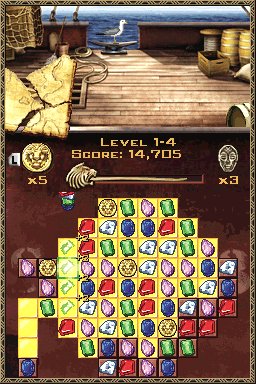 The catch of Jewel Quest Expeditions besides the almost unending amount of jewel based puzzles is that the title actually contains a storyline which is quite rare with this style of games. Become a treasure hunter as you embark on a variety of different "environments" as you attempt to solve ancient puzzles in order to collect items in this almost Boulder Dash and Bejeweled inspired game. There is even a touch of romance in the tale.
Although Jewel Quest has been available on the PC, a 60 minute trial is available at www.iwin.com and now DS users can also experience this sometimes frustrating yet quite addictive puzzle game that will have you playing for hours upon hours.
In its essence, Jewel Quest Expeditions is your traditional colour combination puzzle game where you must match three similar items (e.g. gems or treasures) together in order to unlock the puzzle. (Not as easy as it sounds) By moving these jewels around the puzzle, you eventually mix and match.
The twist of Jewel Quest is that each puzzle has a different strategy that needs to be solved so it does makes things a little tricky and if you solve the puzzle in record time, you are awarded bonus points.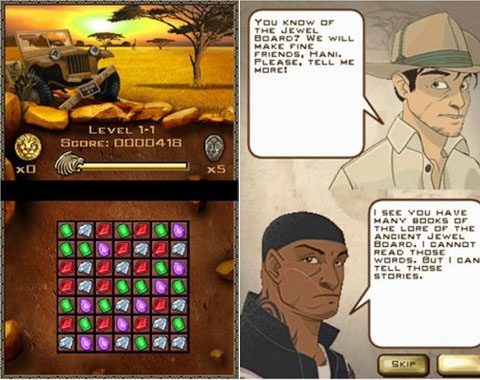 The control system of the game works quite well with the Nintendo DS stylus and actually translated perfectly to this console. Although the bottom screen of the DS is your main method of controlling the game, the top screen is used to display some statistics and some archeological inspired pictures to keep you in the treasure hunting mood.
Graphically, the title is neither here or there in relation to Nintendo DS graphics and is probably on par with a majority of puzzle games. The background pictures on the top screen are nice with a great colour palette and match that with some interesting special effects and music and Jewel Quest Expeditions nicely slots in the "puzzle" category of gaming.
In conclusion Jewel Quest Expeditions is a good puzzle game that will keep you entertained for quite some time, just be warned that some of the levels do get frustratingly annoying, however this is what all good puzzle games are about. Although we did not have a chance, the game also supports a 8-player wireless competition mode which is great for playing against other DS gamers.