ICO Soccer
ICO Soccer reminds me of those classic soccer games on the Amiga 500 and the SNES, not just from the graphics but rather the gameplay which easily allows gamers of all levels the ability to play this title from the get go. Best of all, the developers have ensured that the stylus is not just an afterthought and actually enhances the gaming experience and will have you kicking goals in no time... well, almost.
The developers have boasted an old-school approach to this game and even from the opening scene, the game is extremely retro and actually suits the approach they have taken.
Gameplay wise, you can start a quick match or start a World Cup mode which is quite short. Getting straight into the mechanics of soccer in this title, the top screen is used to display the gameplay itself and information, with the stylus screen used to control your match. The touch screen is where the game is reminiscent of those classic top-down views with icons displayed for various soccer maneuvers.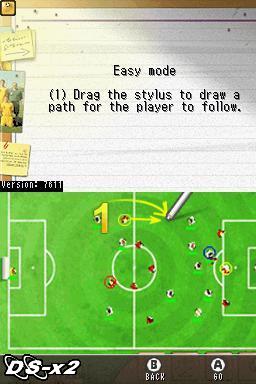 In terms of difficulty, the game is quite easy on "easy" and yes, quite difficult on "pro" and this of course depends on your level of gaming. Of course on easy, the game helps the player tremendously and you really only need to pick which icon you want the player to do such as pass or kick. On Pro, there is another level of difficulty and almost makes the game a strategic experience. After playing this game for a few weeks now, I must admit that it is an interesting sporting game, however this is where some of the shortfalls come into play.
When it comes to gameplay modes, the title features a Quick Match and a World Cup mode with a limited number of teams to play. This almost makes the game feel like like a shareware title and is lacking that polished feel of many of the more popular gaming developers. Of course this is all probably dependent on licensing but nevertheless, it's a shame.
Graphically, the title is a mixed bag with some interesting choices of styles and special effects that the company have adopted. In essence, the game does pay homage to those classic old school soccer games of yesterday and I must admit that is works quite well. Sound is nothing special but it actually suits the graphics and gameplay.
At the end of the day, ICO Soccer may not be for everyone and it seems like a shortened soccer game with the limited number of choices. The gameplay actually works quite well with the stylus and once you have mastered easy, mastering pro is a totally different story. Definitely a game for those looking at an easy arcade soccer game.