Hannah Montana Music Jam

Hannah Montana is played by the talented Miley Cyrus, the daughter of Billy Ray Cyrus who has her own Disney television series which is extremely popular with the younger female market.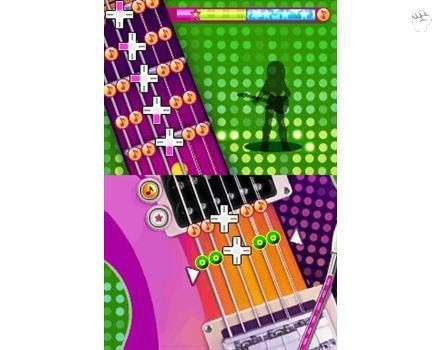 For those unaware of this television series, Hannah Montana is a "rock star", however the girl behind Hannah is actually Miley who attempts to keep this life separate as uses Miley as a secret identity. The series generally revolves Miley attempting to balance both these lives and prevent her friends or school friends from discovering who her alter ego is.
This is where the game comes into play and fortunately for fans of Hannah Montana, Disney have released Hannah Montana Music Jam which allows girls to experience the world of this popular character that contains a variety of music based mini-games and even an adventure game as players become both Hannah and Miley.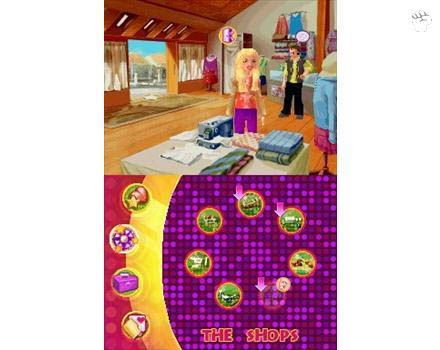 The game is almost like "Sim" light in some aspects as you must balance both aspects of your life by being awarded hearts for keeping a good relationship with your family and friends and receiving stars for performing as Hannah.
Once you have collected a set number of stars and hearts, you can then proceed to the next level in an attempt to beat your rival, Savannah Starr and at the end, you can then create your own own music video.

The music aspect of the game is quite entertaining and is similar to Jam Sessions where the gamer can play a variety of different instruments and you need to hit the correct notes.
While in the adventure part of the game, players must complete a variety of tasks that is extremely reminiscent of the television series and contains some immersive mini-games such as picking the correct "rock star" pose which is quite entertaining and fans will simply adore.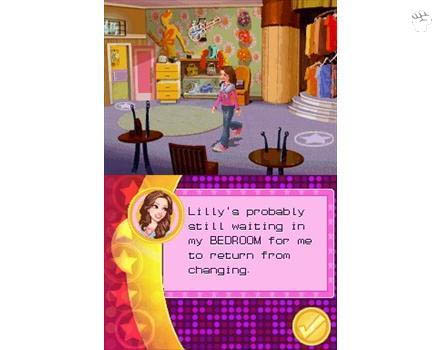 The developers have also ensured that the title contains a variety of girl orientated activities from hair styles to a large gamut of different clothes that is available to music star Hannah Montana.

Graphically, the title is quite colourful and cartoony on the Nintendo DS with well made gaming environments and some great character models that look like their real world counterparts. Musically, the title is a little lapsed in this area but does make good use of the Nintendo DS system. The instruments also sound quite realistic as do the sound effects which is littered throughout the game and gaming environment.

In conclusion, with the release of a variety of Hannah Montana DVD's this month and next, the game is the next progression for fans that we could happily recommended to the female gamer who is a huge fan of the series. An interesting game with a variety of different gaming modes will keep most kids entertained for hours upon hours as they attempt to become Hannah Montana themselves. Definitely worth an investigation!