G-Force DS
Based on the movie of the same name, whether guinea pigs or gerbils, G-Force is about a group of secret agent animals led by the charismatic Darwin, an elite agent. Although this game is also available on the higher end consoles, G-Force on the DS is pretty much the same game, an arcade adventure game that almost works quite well on this console. As players control Darwin, they need to interact with the gaming environment by exploring, jumping and fighting a variety of enemies along the way in order to find out why common household appliances have turned into vicious machines.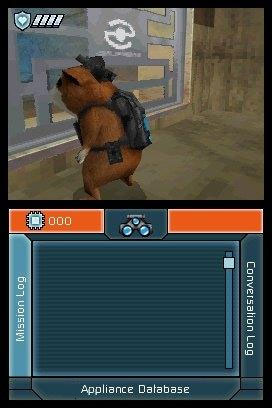 Features
Unique gameplay requiring the player to switch between Darwin, a guinea pig, and Mooch, a housefly

Special abilities for each character: Darwin's hover pack lets players speed through areas or fly up to higher altitudes; Mooch can slow down time

Innovative platform puzzle solving to reach new areas and trigger gadgets

New enemies, weapons and locations not seen in the film

Characters' voices match "G-Force" film: Sam Rockwell, Jon Favreau and Bill Nighy
Reminiscent of games such as Ratchet & Clank, G-Force DS is a visually quite impressive game and successfully captures the 3D environment quite well. The environments are a little Spartan compared to the high end consoles, however the characters are well animated and do look like their move counterparts. The biggest issue with the DS version is the camera which is quite fiddly, especially in this 360 3D world.

In terms of the graphics, the developers have managed to create a few different gaming environments from kitchens to offices that all have their own uniqueness to them. The level design of G-Force is above average and even though the DS version has been scaled down, it's still a very good looking game. The game contains a decent soundtrack with a variety of fun sound effects, however unfortunately there are no voice bites from the movie which is a shame, even in the cutscenes. Obviously this was done due to space restraints.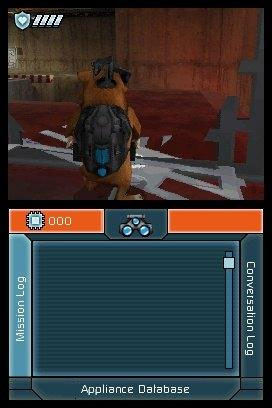 Our little furry vermin also has access to a variety of items from spy equipment to weapons which does assist in putting some "spice" into the game. Although much of the time is spent exploring, the game does contain a healthy amount of combat that even though it's a little easy, it's actually quite fun.

Apart from controlling Darwin, gamers must also control his sidekick, Mooch the fly. Mooch is needed to access areas where Darwin cannot get to and this is another similarity to Ratchet & Clank but actually works quite well. There are a number of obstacles and puzzles along the way such as mini-games with the stylus to open doors or using appliances to assist you in your goals. Even though the game has been designed for kids, it's one of those games that the developers have not cut too many corners, ensuring that children will enjoy the experience, unlike some other movie ports that we will not mention here.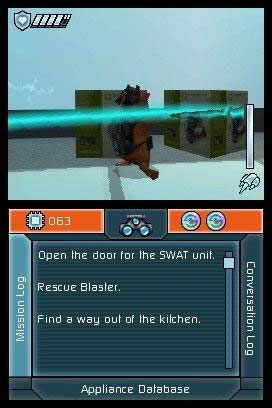 Final Thoughts?

G-Force on the DS is a competent arcade adventure game with some impressive graphics and good gameplay. The biggest complaint is the camera which does take a little getting use but thankfully the gameplay is enjoyable so most gamers will hopefully move pass this issue. Strap on your spy goggles and help Darwin and Mooch save the world from rogue appliances. Yes my friends G-Force is a fun game for the kids, however if you're over 15, you might want to look elsewhere as the gameplay is a tad easy.