Drawn to Life
Finally a unique game on the Nintendo DS that truly revolutionizes the Nintendo DS interface in what can only be described as an interactive colouring game book. In its essence, Drawn to Life is your classic arcade platformer where the hero or heroine must jump and move their way through a side scrolling gaming environment. The catch behind Drawn to Life is that player can virtually design their own hero, vehicle and weapons which will then be used in the game. Cool hey?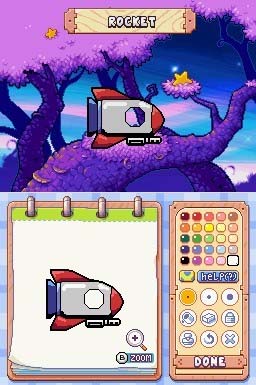 Features
Rebuild a small village with your stylus, drawing the planets, animals, sun, moon, stars and much more! Watch as your creations interact in the streets with the town population!

Jump, crawl, charge and battle your way through dark forests, windy meadows, busy cities and tropical islands.

Drawn to Life provides a powerful, yet easy-to-use paint set, including a 25 color swatch palette, eraser, three brush sizes and flood fill. Not an artist?

Tracing templates are available to guide users to create works of art.
The character creation of Drawn to Life is extremely easy to use thanks to the Nintendo DS stylus which allows you to almost create anything you like. Want a Superman clone? Easy... Want a Tie-Fighter? Easy... draw just about anything you want, colour it and see it interact with the environment... Priceless!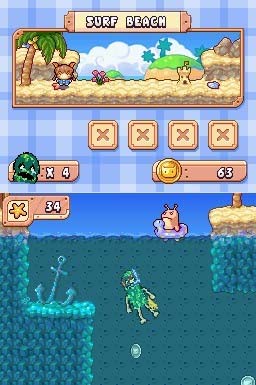 The beauty of the game is that your characters animate perfectly with the gaming environment as you are required to draw certain aspects of the character like their head or legs. This allows for almost perfect gaming implementation which does look quite professional in the end, depending on your artistic ability.
The gameplay of Drawn to Life offers a variety of different quests, mini-quests that are all dictated from Raposa Village which is the main crux of the title where your character or characters start. The game also has a main theme where the player must help liberate and cleanse the land of Raposa that was once a place of harmony and peace for these small cute catlike creatures.
Unfortunately for these catlike creatures, certain pages of the book of life has been destroyed and its up to you as their god to assist them. Although the gameplay is quite simplistic and repetitive, it perfectly suits the younger generation of gamers who will definitely enjoy this title from start to finish and then some.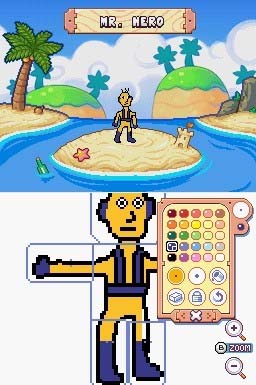 Graphically, Drawn to Life is rather impressive with its simplistic yet colourful cartoony graphics that suits the genre perfectly. There are even a few special effects in the title to give the title that real arcade feel. As to the characters themselves, well that's up to the gamer of how good or bad they look. For music and sound effects, expect some traditional "arcade" music and sound effects which go hand in hand with the gameplay.
In conclusion, Drawn to Life is a unique title on the DS that truly takes gaming on this console to the next level. It's amazing that no one has really thought of this before and I'm sure more games will follow suit. Recommended for the younger gamer and lovers of arcade platform games.