Crazy Pig
The Nintendo DS is inundated with animal games, however there has never been a title as engaging as Crazy Pig that is solely about a pig. That's right, gamers can control Crazy Pig in a variety of mini-games in order to get its own back on a nefarious wolf that has been loitering around the sty. Definitely aimed at the younger market, kids will enjoy this strange game that successfully uses the Nintendo DS Stylus as they endeavor to make their farm safe.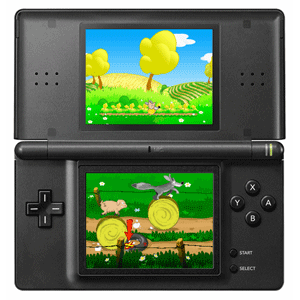 Features
Mixture of Nintenpigs with lots more fun and humour

Crazy Pig is really dirty and naughty – you need to take control!

Two parts to the game

Piglet raising – care and raise your piglet the way you like

7 mini games – earn points to unlock even more games. Feed, dress and keep your piglet happy!

Hunger, thirst, cleanliness & happiness: to counter these influences you need to take care of your pig by feeding, bathing and dressing it up!

Plenty of piggy accessories to take care of Crazy Pig - more soap than mud please!

Olym-pig games! Seasonal events keep Crazy Pig occupied all year long!
Some aspects of Crazy Pig make this title a simulator as the gamer is responsible for feeding and raising this animal, whereas other aspects are more far fetched such as gamers actually having the ability to control the pigs dreams which are some of the mini-games in the title.
The gamer must also ensure that their pig has a variety of food available as the animal gets quite bored of certain foods all the time. Fortunately a graph allow the gamer to keep their pig's appetite in check and whether its water or milkshakes... yes milkshakes, your pig will be in piggy heaven.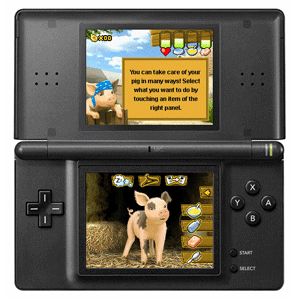 The mini-games in Crazy Pig are entertaining, although sometimes quite bizarre such as the Olym-pig games or other games that award the gamer with clothes for pig. Strange but amusing... hence the reason why kids will enjoy this title. The more medals your pig acquires, the more dreams (or mini-games), the player will be able to access.
Koolink have made good use with the Nintendo DS technology with the microphone also being available for the player such as one game needing the player to blow on the microphone in order to move the windmills to move your pig's umbrella in the air, whereas other times the player will need to be more vocal as they scream into the microphone when the wolf appears. Parents may be a little annoyed at this aspect of the title.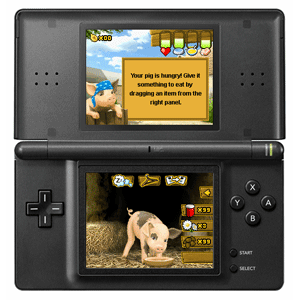 Graphically the title of Crazy Pig is cute, it may not have the huge gaming budget as some Nintendo DS games but it suits the game fine. The title does have a two dimensional feel to it that contains quite a varied color palette but at the end of the day, it is unfortunately rather bland in some places. There are a few great special effects here and there that will however draw gamers into the world of Crazy Pig
The sound effects of Crazy Pig are brilliant and the variety of pig noises in the game had me smiling and almost laughing at times, they are so realistic. Match that with a variety of other farmland noises and one could be forgiven in thinking they are on a real farm.
In conclusion, Crazy Pig is definitely an enjoyable kids game for the under 14 market that contains some interesting mini-games, an interesting concept and good old fashioned arcade fun of the 1980's with 21st century technology.