Nintendo DS
After a lengthy wait, impulsegamer finally had the chance to review the new Nintendo DS console and was it worth the wait? You betcha! Upon first inspection of the unit, one of the first things that you notice (besides, its sleek silver design) is that the console has two LCD screens and that it's considerably heavier than its predecessor, the GameBoy Advance SP. The unit itself has also been cleverly designed to be closed and when not in use, it measures at a respectable 148.7mm (length) x 84.7mm (width) and 28.9mm in height. Although the unit is bigger than the previous portable console system by Nintendo, there are a number of logical reasons for this that include;
2 backlit screens with a resolution of 256 x 192 pixels with a .24mm pitch that has the ability to display over 260,000 colours

The bottom LCD screen is actually an analog touch screen that allows for a multitude of gaming possibilities with either the use of the Nintendo stylus or your fingers

Wireless IEEE 802.11 communication facilities that allows for flawless wireless gaming of up to 100 feet

Lithium-ion battery that boasts 10 hours of gameplay

Backward compatible with GameBoy Advance games

Input facilities for headphones and microphones

2 powerful ARM9 and ARM7 CPUs &

Stereo speakers that support virtual surround sound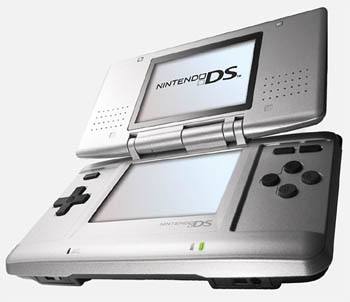 With that said, Nintendo have really pushed the frontier of gaming with its ingenious design and rather than just bank on what has been previously used, the use of 2 screens and the ability to use one as a touch screen will really revolutionise the way we see gaming. On the front of the machine, the system contains a volume switch, GBA cartridge slot, microphone and headphones connectors. Whereas the back contains two shoulder buttons (left and right), a holder for the stylus pen, the Nintendo DS wrist band, DS cartridge slot and AC adapter connector. Upon opening the unit, the top panel contains two stereo speakers and a LCD screen with the bottom panel containing a power button, directional pad, LCD touch screen and six buttons (select, start, X, Y, A & B)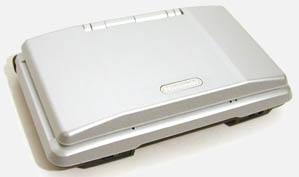 Box Contents
Nintendo DS

Rechargeable battery pack

AC Adapter

Nintendo DS stylus

Nintendo DS wrist strap

Metroid Prime Hunters: First Hunt (Demo)
Before we start with the gaming capabilities of the unit, it should be mentioned that the console itself comes with some inbuilt software called PictoChat that allows you to wirelessly talk to other Nintendo DS gamers, provided that they are in range. PictoChat gives the gamer a choice of 4 rooms to join (A - D) that allows the user to perform a variety of functions from sending text messages to drawing their own pictures. Another impressive feature is that the unit also has the ability to download software from another DS unit which means that some two player games only require one cartridge to play between two or more people.

The first time you turn your DS on, the console asks the gamer to input a variety of details that includes your name, the current time and date, your favourite colour (which becomes your background colour) and your birthday, although unfortunately I have to wait till November 22nd to find out what happens. Once this information has been inputted, the user is greeted to an extremely user-friendly interface that allows the gamer to either (provided there is a cartridge installed) play a Nintendo DS game, run PictoChat, DS Download play (for multiplayer games) or launch a GBA game.
As mentioned before, the Nintendo DS is backward compatible which means you can play GameBoy Advance games on the unit. I tested a variety of GBA games on the console that include Golden Sun and Grand Theft Auto Advance and I must say the graphics looked crisper & sharper and they both ran considerably smoother than on the consoles they were intended to be run on. Another interesting feature is that you can also have two cartridges installed into the unit at once, a Nintendo DS game and a GameBoy Advance game which is ideal for those long trips.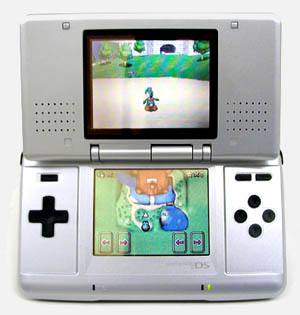 Nintendo fortunately sent a variety of games to review with the console that included Mario 64 DS, WarioWare Touched! and Project Rub to name a few of the titles. As with all DS titles, both screens are always used during gaming and the bottom touch screen performs a variety of different actions that include controlling your character (Mario 64 DS) or trying to get fish out of a man's stomach (Project Rub). The introduction of the touch screen truly makes gaming more interactive now because you are not limited to the use of buttons.
The screen resolution of the Nintendo DS is phenomenal and is extremely clear and sharp, with vibrant colours, thanks to the semitransparent reflective TFT colour LCD screen. Apart from the screen, the other most impressive feature of the Nintendo DS is the amazing sound quality of the unit that simply sounds superb, even through the consoles tiny speakers. The unit also makes full use of both stereo and virtual surround sound which really enhanced my gaming experience, especially in Mario 64 DS and Metroid Prime: First Hunters (Demo)
In Metroid Prime: First Hunters (Demo), gamers get to experience the ferocious first-person action of the Metroid Prime universe on the Nintendo DS in this playable demo which truly showcases the Nintendo DS console. The demo contains a variety of single-player training modes that include Regulator, Survival and Morph Ball and also allows you to compete in Death Match arenas with your friends over a wireless connection. The multiple control schemes take full advantage of the touch screen, giving all gamers an ideal way to play and really takes first person shooters to another level. The accuracy of the stylus is actually better than using a mouse on a PC because you just point and click to shoot.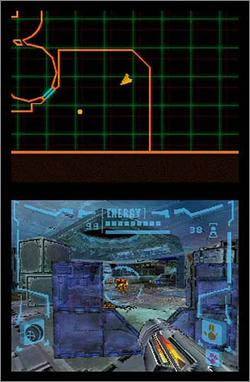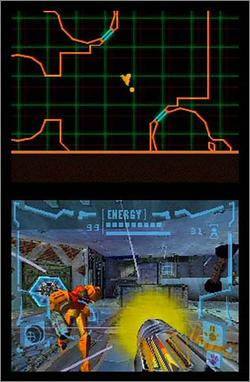 During our tests, the battery life of the Nintendo DS was around 8 to 9 hours (10 hours is quoted by Nintendo) but it also depends on what applications you are running. The high battery life of the unit is achieved by the lithium-ion battery that takes 4 hours to charge the battery which is a small price to pay for portable gaming. Another nifty idea is that when the unit is closed while you are playing a game, the system goes into a sleep mode to maximise battery life.
In conclusion, the Nintendo DS is a brilliant gaming console that truly takes portable gaming to the next evolutionary stage. The only downside to the unit is that sometimes it does become a little heavy through continuous gaming sessions but it's a small price to pay for what this unit can perform. Although the majority of first generation games are aimed at the younger gaming market, there are enough adult titles on the horizon to allow the more mature gamer to truly enjoy this new console and with the PSP just around the corner, I'm sure the Nintendo DS will give it a run for its money with its dual screens, better battery life and use of a touch screen. And for $199.95 with a bonus demo game of Metroid Prime: First hunter, you can't go wrong, well done Nintendo!